With the exception of the Asterix books which I've loved since I first borrowed them from the library as a child, my experience with graphic novels has been rather limited.  By limited, I mean nil.  Partly I think this is because I've always been a bit unsure of the concept: pictures are nice enough, but what attracts me to books is the writing, which is dramatically reduced in a book of this nature.  However, I had heard so many good things about the Fables books by Bill Willingham that my interest was piqued.  I'm a sucker for a good fairy tale adaptation, so I pounced on the first installment, Fables: Legends in Exile, popped up on BookMooch I thought it would be worth a try.  Turns out that it was a smart decision, as this was a great introduction to the world of the graphic novel.
The characters from the fairy tales that we all know and love have been driven out of their fantasy world by a sinister unknown enemy.  Unable to return to their homes, they are now living in modern day New York City where they try to blend in under the watchful eye of Snow White.  Problems arise when Snow White's sister, Rose Red, goes missing and her aparetment is found covered in blood.  While she works with Bigby Wolf to solve the mystery, Prince Charming is attempting to raffle off his kingdom in the old world to raise some much needed money, and evertyhing comes to a head at the traditional Remembrance Day ball.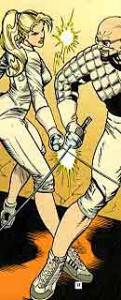 This is a cleverly written book because, while it has a plot that is neatly tied up at the end, it also provides only tantalising hints into the wider story which surrounds the fairy tale characters.  I want to know what exactly happened to their world which made them flee to ours, and how that is going to develop.  I want to know more about the characters and their somewhat strained existence rubbing shoulders with ordinary humans.  I want to find out more about their traditions and cultures and how their fary stories continue to be played out in the real world.  .  In other words, it provided the perfect amount of story to engage and satisfy me if I only ever read Legends in Exile, but at the same time it guarantees that I'm going to want to carry on and read more of the series because I'm so fascinated with the world.
The concept is interesting (if a bit self-consciously silly at times) and it's much grittier than I had expected from a fairy tale adapt  ation.  I loved the little details that Willingham puts in about the characters: the Beast, for example, is only handsome as long as Beauty is happy in their marriage, so he keeps reverting to his beastlike appearance every time Beauty becomes annoyed with him (which happens quite frequently).  The pictures aren't as pretty as I tend to favour, but I think they really suit the detective noir style of the story.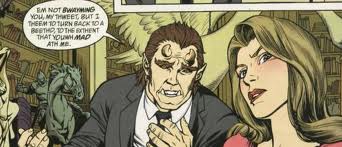 This is a great beginning to what promises to be a  really interesting series, and one I'll be continuing with soon, I think.
Fables Volume I: Legends in Exile by Bill Willingham, illustrated by Lan Medina, Mark Buckingham, Steve Leialoha and Craig Hamilton.  Published by Vertigo, 2002, pp. 128.
One Response to "'Fables: Legends in Exile' by Bill Willingham"
Write a comment