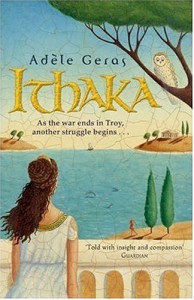 Many years have passed since the end of the Trojan War, and Penelope is still waiting for her husband, Odysseus, to return home. The city of Ithaka is overrun with uncouth suitors from the surrounding islands who are vying to win Penelope's hand in marriage, thereby gaining control of the land. When a naked, half-drowned man washes up on the beach, everything changes.  Told through the eyes of Klymene, a young girl who is like a daughter to Penelope–and who longs for more than friendship from the young prince Telemachus–Ithaka captures the quiet strength and patience of a woman's enduring love for her husband and the ensuing chaos that threatens all as Penelope is pressured to remarry.  (Goodreads Summary)
I have read and loved 'The Odyssey' and I have read and loved Margaret Atwood's brilliant adaptation of the myth in 'The Penelopiad', both of which are fantastic pieces of literature. Unfortunately, 'Ithaka' feels very much like the poor relation: it lacks the poetry and beauty of the original and the wit and courage of Atwood's version. I appreciate that this is a young adult book, but that does not excuse its clunky prose and lack of conviction in its own story.
When a writer chooses to develop a well known myth with archetypal characters it seems that there are two ways to go: either the characters behave as they do in the original piece and the book becomes an interesting companion to that original, developing different aspects reflecting the author's own particular slant, or alternatively the author turns the characters entirely on their heads, making them interestingly different and so showing the original story in a new light. Sadly, this book seemed to waver between the two and so achieved neither aim. The whole point of Homer's Penelope is that she waits faithfully for the return of Odysseus, but this book saw her both fall in love with and repeatedly have sex with one of the suitors. I feel that this could potentially have been a very interesting development to Penelope's character (Odysseus, after all, is far from faithful to her during the same time), but instead it was inconsistent, pointless and was terribly out of place when the author returned to the original Homeric ending. It could have worked, but it didn't.
Odysseus, when he eventually appeared, was equally unsatisfying. Given the casually bloodthirsty tone of Adele Geras' other novel of ancient Greece, 'Troy', I wasn't expecting Odysseus to be so soft. Some of the suitors are allowed to flee, and the killing of all Penelope's handmaidens is removed altogether. I had expected Klymene, the rather insipid main character, to escape the slaughter but for it not to happen at all changes Odysseus a lot.
Although I try not to be too bothered by anachronisms in historical fiction, I found the repeated use of the word 'crap' to be particularly jarring and modern. Equally, there seemed to be a remarkable lack of pregnancy considering the promiscuity of some of the characters and the general dearth of contraception in ancient Greece. But without doubt the thing that annoyed me most about this book was the use of the gods. Sometimes they appeared in order to be involved in the plot or change the direction of the narrative, but most often they just seemed to appear for a quick chat which had no influence on the story whatsoever and so they lost any significance that they might have had.
Ithaka by Adele Geras.  Published by Corgi, 2006, pp. 416.  Originally published in 2005.
N.B. This is an old review written in 2010 and posted on Goodreads and LibraryThing before I started keeping track of all the books I read here at Old English Rose Reads.  I've decided to keep copies here so that this remains a complete record of my reading since I started reviewing books for my own pleasure.
Write a comment