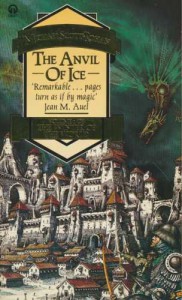 First in a trilogy that blends magic with prehistory, here is a tale of potent magicks, immortal struggles, and human courage in the face of evil forces and awesome odds that follows Elof and his band of adventurers in a battle with the evil Mastersmith Mylio. (Goodreads Summary)
I picked up this trilogy second hand on a whim and I'm very glad I did. The first book has the stately feel of a Germanic epic, but the characters are interesting and well created. It borrows from the tradition without slavishly copying it, which made for a more interesting book in my opinion. I did find the occasional metatextual interjections stating that the story was taken from an ancient text to be slightly irritating as they interrupted the flow of the narrative, but otherwise I thoroughly enjoyed this book.
The Anvil of Ice: The Winter of the World Book I by Michael Scott Rohan.  Published by Time Warner, 1990, pp. 352.  Originally published in 1986.
N.B. This is an old review written in 2010 and posted on Goodreads and LibraryThing before I started keeping track of all the books I read here at Old English Rose Reads.  I've decided to keep copies here so that this remains a complete record of my reading since I started reviewing books for my own pleasure.
Write a comment