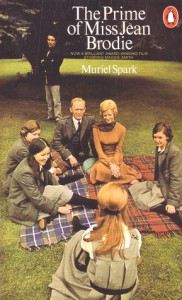 At the staid Marcia Blaine School for Girls, in Edinburgh, Scotland, teacher extraordinaire Miss Jean Brodie is unmistakably, and outspokenly, in her prime. She is passionate in the application of her unorthodox teaching methods, in her attraction to the married art master, Teddy Lloyd, in her affair with the bachelor music master, Gordon Lowther, and—most important—in her dedication to "her girls," the students she selects to be her crème de la crème. Fanatically devoted, each member of the Brodie set—Eunice, Jenny, Mary, Monica, Rose, and Sandy—is "famous for something," and Miss Brodie strives to bring out the best in each one. Determined to instill in them independence, passion, and ambition, Miss Brodie advises her girls, "Safety does not come first. Goodness, Truth, and Beauty come first. Follow me."  And they do. But one of them will betray her.  (Goodreads Summary)
This book was a quick read but an enjoyable one, and is far more than a typical school story. There was a slightly sinister edge to the story at times, as Miss Jean Brodie attempts to direct the thoughts and actions of her 'set' of girls to transform them into the 'creme de la creme', but as the book progresses we see her assertion 'Give me a girl at an impressionable age and she is mine for life' both develop and fail spectacularly. The main narrative following the Brodie set at school is cleverly interwoven with brief exerpts from the girls' futures, allowing the reader to see how the girls will develop and transform through the influence of their teacher.
Throughout the book, the narrative style is witty and humorous, and statements are written in such a way as to allow the reader to tell immediately whether they are from the perspective of the girls or the teacher. A great deal of this reminded me of my own experiences at the girls' school I attended, and so I often found myself smiling as I recognised things that we did or thought. I can see how this book would make an excellent film, and I'll definitely look out for it.
The Prime of Miss Jean Brodie by Muriel Spark.  Published by Penguin, 1973, pp. 128.  Originally published in 1961.
N.B. This is an old review written in 2010 and posted on Goodreads and LibraryThing before I started keeping track of all the books I read here at Old English Rose Reads.  I've decided to keep copies here so that this remains a complete record of my reading since I started reviewing books for my own pleasure.
One Response to "Review: 'The Prime of Miss Jean Brodie' by Muriel Spark"
Write a comment