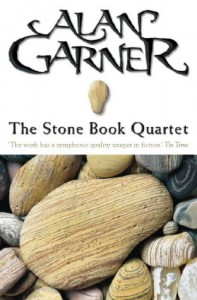 The four books which make up this volume were first published individually. "As the stories grow into one story, so one's awareness of the emblems and symbols deepens! Garner binds the reader to him and he shows us the author working with language to make his book as his characters worked with stone and iron. Not a word is wasted." – "Times Literary Supplement". "The Stone Book" – "Expect a lot and you won't be expecting too much of "The Stone Book". It is a miniature masterpiece and, like all great miniatures, is staggering in what its limits contain." – Signal. "Granny Reardun" – "A brief, distinguished, satisfying book." – "The Observer". "The Aimer Gate" – ""The Aimer Gate" and its companion books deserve to last as classics in their kind – compact, concentrated, yet giving that impression of ease and simplicity which is the mark of a craftsman." – "The Sunday Times". "Tom Fobble's Day" – "The writing is marvellously precise, metaphorical and compressed, using each word to do the power of ten." – "The Guardian".  (Goodreads Summary)
When I was younger, I loved the Alan Garner books I read because of their exciting stories, fantasy characters and mythic themes, all of which attributes are completely absent from 'The Stone Book Quartet'. Instead, this book tells a simple, quiet story through four vignettes of four generations of a family living in a village outside Manchester and their interactions with the land. While I'm very glad I didn't pick this book up aged nine when I read the rest of his books as I suspect I would have been disappointed at how different it was, it has a beauty and a magic all of its own.
The way that Alan Garner handles time in this book is impressive: he manages to convey a the development and modernisation as the four stories progress, whilst simultaneously giving an impression of timelessness to the characters and their surroundings. There is a sense of sadness as the outside world changes and the characters must change with it, but the fundamentals of craftmanship, respect for the land and family relationships remain constant. Place is also very important in the book, and is conveyed effortlessly through the use of local dialect words, which felt natural rather than forced and self-conscious.
I do think that the book could have benefitted from a glossary explaining some of these local terms, but on the whole they didn't interrupt my enjoyment of the story. Similarly, I sometimes felt that there were passages I couldn't fully appreciate because I know nothing about smithing or stone cutting, but at the same time, any explanation in the text would have been out of place and would have spoilt the tone of the simple, direct narrative.
The Stone Book Quartet by Alan Garner.  Published by Flamingo, 1999, pp. 172.  Originally published in 1976.
N.B. This is an old review written in 2010 and posted on Goodreads and LibraryThing before I started keeping track of all the books I read here at Old English Rose Reads.  I've decided to keep copies here so that this remains a complete record of my reading since I started reviewing books for my own pleasure.
Write a comment