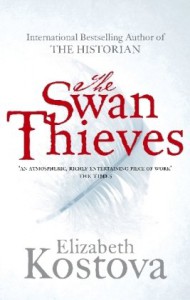 Psychiatrist Andrew Marlowe has a perfectly ordered life–solitary, perhaps, but full of devotion to his profession and the painting hobby he loves. This order is destroyed when renowned painter Robert Oliver attacks a canvas in the National Gallery of Art and becomes his patient. In response, Marlowe finds himself going beyond his own legal and ethical boundaries to understand the secret that torments this genius, a journey that will lead him into the lives of the women closest to Robert Oliver and toward a tragedy at the heart of French Impressionism. Ranging from American museums to the coast of Normandy, from the late nineteenth century to the late twentieth, from young love to last love, 'The Swan Thieves' is a story of obsession, the losses of history, and the power of art to preserve human hope.  (Goodreads Summary)
I think the reason that this book seems to polarise opinion is because nothing much happens in it. Psychologist Robert Marlowe acquires the renowned painter Robert Oliver as his patient, and subsequently travels around meeting people who might be able to shed some light on the reasons behind Oliver's breakdown. The majority of the book comprises the memories and insights of these people told in the voice of that particular individual, and so takes place outside the narrative which is really a convenient framework for these first person interludes. This apparently frustrates a lot of people, but it's what made the book so appealing to me.
'The Swan Thieves' is not a book that is driven by action but by a gradual development of the characters encountered, all of whom are vivid and fascinating. I thought the author used different points of view and writing styles well, blending first person narratives in the past and present tenses, third person narratives in the present tense and letters to create an elaborate whole piece by piece. Usually this sort of switching irritates me, so it's a mark of the author's skill that in this case I thought it perfectly suited the book. Each different bit of the writing told me more about the characters and it was this gradual revelation and exploration which made this book such a pleasure to read.
The Swan Thieves by Elizabeth Kostova.  Published by Sphere, 2010, pp. 607.  Originally published in 2009.
N.B. This is an old review written in 2010 and posted on Goodreads and LibraryThing before I started keeping track of all the books I read here at Old English Rose Reads.  I've decided to keep copies here so that this remains a complete record of my reading since I started reviewing books for my own pleasure.
Write a comment