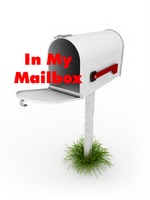 "In my mailbox" is a weekly meme hosted by The Story Siren in which people share the books that they have acquired that week.  They don't have to have come arrived through the mail (or post if, like me, you're English), and most of mine have come from second hand book stalls.  It sounds more like a confessional to me, particularly given my acquisition of books despite the book embargo from my mother, and so it's rather appropriate for a Sunday post.  This is my first time taking part (obviously, this blog not being in existence last Monday).
I'm afraid I don't own a camera at the moment, although I will see about rectifying this in the future, so it's just going to be one long big list from me this week.
The Complete Collected Poems of Maya Angelou
The Professor's House by Willa Cather
A Lost Lady by Willa Cather
The Age of Innocence by Edith Wharton
Ethan Frome and Other Stories by Edith Wharton
The Colour Purple by Alice Walker
A Far Cry from Kensington by Muriel Spark
Candide and Other Stories by Voltaire
The Remains of the Day by Kazuo Ishiguro
Eva Luna by Isabel Allende
Three Cups of Tea by Greg Mortensen
Mister Pip by Lloyd Jones
Persepolis by Marjane Satrapi
The Lord of Middle Air by Michael Scott Rohan
The Ice King by Michael Scott Rohan and Allan Scott
Animal Farm by George Orwell
I can't wait to get stuck into this lot, although I'm going to try to give my older books a chance first.  I feel very guilty as they look down at me from the shelves, unread.
This means that, as of today, my TBR pile stands 475 books high.
10 Responses to "In my mailbox this week"
Write a comment