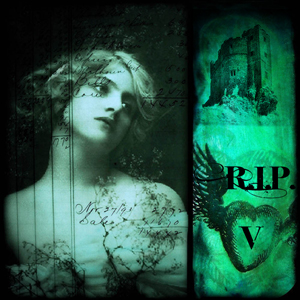 Ever since first reading Jane Eyre and then writing my GCSE coursework on the gothic elements in the novel (I'm impressed that I can remember that) I've been a fan of gothic literature.  Going on to read The Italian by the famous Mrs Radcliffe at university reminded me how much I enjoy these books.  After reading Northanger Abbey I realised that I shared Jane Austen's mocking but affectionate appreciation for the gothic displayed in that book.  For me, reading a traditional gothic novel is rather like going to the pantomime: it's rather camp, slightly silly, very overacted, I'm familiar with the characters and I know exactly where the story is going but I love it nonetheless.
Consequently, I was very pleased to stumble across the R.eaders I.mbibing P.eril Challenge, now in its fifth year, run by Stainless Steel Droppings.  He writes:
Some of my earliest reading memories were collections of Peanuts, borrowed from the local library. I would pour over them, finding humor in the strangest of places, laughing aloud. That early exposure to the work of Charles Schultz cultivated a deep and abiding passion for his creations.And that phrase, "It was a dark and stormy night…" tickled my imagination with thoughts of moonlight and darkness and things that go bump in the night.

Perhaps that was also the beginning of my passion for I what I lump under a broad personal definition of gothic literature: dark nights; decaying, haunted castles; menacing forests; pervasive gloom; ancient prophecies; damsels in distress (or at least at the wrong place in the wrong time); blood-curdling screams…stories with atmosphere so thick you could cut it with a knife.

It was a desire to celebrate and share that love of the elements of gothic fiction that inspired me to create the first R.I.P. Challenge, five years ago.

Readers Imbibing Peril, that is what it is all about. I hope you'll consider joining us on this more eerie road less traveled.

Walk this way.
The aim of this challenge is to read books from any of the following genres: mystery, suspense, thriller, dark fantasy, gothic, horror and supernatural.  I'm going to aim for Peril the First, which means reading at least four books which meet these criteria.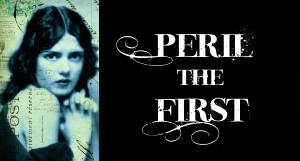 My intention is to read a mixture of traditional gothic literature along with more modern works.  With the exception of The Little Stranger by Sarah Waters which I have already started (and is fantastic, by the way) I'm not sure what I will read yet, but some possibilities include:
Vathek by William Beckford
The Castle of Otranto by Horace Walpole
The Monk by Matthew Lewis
The Woman in White by Wilkie Collins
Sleep, Pale Sister by Joanne Harris
The Thirteenth Tale by Diane Setterfield
Echoes from the Macabre by Daphne du Maurier
I shall be keeping a pot of smelling salts on hand in case I am overwhelmed by terror and feel in danger of fainting.  All books will of course be read by candlelight while wearing a voluminous nightgown (except when I'm on the train, as that might raise a few eyebrows).
9 Responses to "A chilling challenge"
Write a comment