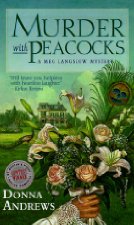 Title: Murder with Peacocks
Author: Donna Andrews
Published: St Martin's Paperbacks, 1999, pp. 311
Genre: Contemporary mystery
Blurb:So far Meg Langslow's summer is not going swimmingly.  Down in her small Virginia hometown, she's maid of honor at the nuptials of three loved ones — each of whom has dumped the planning in hercapable hands.  One bride is set on including a Native American herbal purification ceremony, while another wants live peacocks on the lawn.  Only help from the town's drop-dead gorgeous hunk, disappointingly rumoured to be gay, keeps Meg afloat in a sea of dotty relatives and outrageous neighbours.
And, in a whirl of summer parties and picnics, Southern hospitality is strained to the limit by an offensive newcomer who hints at skeletons in the guests' closets.  But it seems this lady has offended one too many when she's found dead in suspicious circumstances, followed by a strong of accidents — some fatal.  Soon, level-headed Meg's to-do list extends from flower arrangements and bridal registries to catching a killer — before the next catered event is her own funeral…
When, where and why: In spite of my love of books, cats, tea and other traditional trappings of spinsterhood I am in fact getting married next year.  In the time between now and then I've embarked on a mission to find novels about weddings which actually have a decent plot and interesting characters rather than supposing that excessive amounts of tulle, lace and flowers are suitable substitutes for these.  To this end, I've been picking up a whole variety of wedding themed books and this one arrived recently from BookMooch (so recently in fact that I've not listed it in a Mailbox post yet).  I started reading it now because I'm not enjoying my main book very much (review to follow shortly) and I needed a quick read that I could be fairly sure of finding entertaining as a break from that.
What I thought: This is the sort of comfortable mystery which doesn't make many demands on the reader: the murder victim is sufficiently unknown and unlikeable that the death isn't distressing; the plot unfolds gently without any dramatic turns; and the solution, while not obvious, is easy enough to work out, even for someone like myself who doesn't read many mysteries.  However, just because it was uncomplicated does not mean it was a bad read, and I thoroughly enjoyed the relaxation of reading this book.
Because the weddings serve as the backdrop for this novel rather than its raison d'etre, I found that it avoided the usual trap of losing plot and characters beneath enormous white dresses.  The story, while simple, was good fun and the characters were well-drawn and enjoyable.  Narrator Meg Langslow's array of eccentric family and neighbours added a levity and humour to the standard mystery plot.  I was continually amused and how unfazed these residents of small-town Virginia are by the initial murder and continuing attempts on the lives of and her family and friends.  Her father is positively delighted at the chance for some amateur sleuthing, Meg's mother seems oblivious, and Meg herself is more concerned with organising three increasingly demanding weddings.
In Meg herself, Donna Andrews has created a character with a very pleasant narrative voice.  She is wry and intelligent and her observations made me chuckle on numerous occasions.  Unlike the heroines of many chick lit books, she manages to be single without being either bitter or desperate.  She is exasperated by the various brides' indecisions, demands and dithering without being scathing or dismissive, and the same is true of her attitude towards her family.  It makes a welcome change to read a book narrated by someone who is mocking and funny without being sarcastic and unkind.
Where this book goes: I've loaned this book to my mother, as I'm fairly sure she'll enjoy it.  After that I think it will be back on BookMooch looking for a new home, as it's not one I'm ever likely to read again after this year.
3 Responses to "Review: 'Murder with Peacocks' by Donna Andrews"
Write a comment