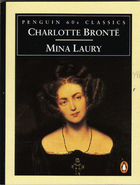 Title: Mina Laury
Author: Charlotte Bronte
Published: Penguin, 1995, pp. 55
Genre: Classic juvenilia
Blurb: Set in the imaginary kingdom of Angria, Charlotte Bronte's early story of the Duke of Zamorna and his loyal mistress, Mina Laury, demonstrates the birth of her lifelong obsession with the degrees and forms of human passion.
When, where and why: I had never heard of this story, or indeed of any Charlotte Bronte juvenilia, before I happend to stumble across this book while browsing BookMooch.  I decided to read it now in a vain attempt to reduce my TBR pile as it edges dangerously close to 500.
What I thought: It is very clear from reading this book that Charlotte Bronte's skills and sensibilities developed a lot in between the time that this was written and the time when Jane Eyre emerged.  Although her style remains similar, in her novels the language is less florid, the characters more individual, the heroines more mature and the plot much tighter.  It was interesting to read Mina Laury from this perspective, but I personally don't think that it has much to recommend it in and of itself.
Confusingly, both the eponymous Mina Laury (mistress of the Duke of Zamorna) and Mary (wife of the Duke of Zamorna) speak with indistinguishable voices.  Both are young, attractive, and entirely without backbone, something Charlotte Bronte thankfully amends by the time she creates the wonderful Jane Eyre.  They are also both hopelessly in love with the Duke, in spite of the fact that he has the incredibly unheroic, unromantic name of Adrian (I think Sue Townsend has coloured this name for me somewhat).  The Duke seems to respond passionately to both women in the same way at different times, so I was thoroughly confused as to with whom he was supposedly in love.
Not only are the characters rather lacking, the story is convoluted and confused.  When an author ends their work saying:
I have done my best to please you, and though I know that through feebleness, dullness, and iteration my work terminates in failure rather than triumph, yet you are bound to forgive it, for I have done my best– (p. 55)
…it is apparent that this isn't exactly their best work.  However, in this case I don't think it was helped by the edition which abridges the story considerably, including large summaries in parentheses before switching to a completely unconnected scene.  It made the story feel very disjointed and I can't help wondering if some of the character problems weren't smoothed over a bit in the gaps.
Where this book goes: This one is heading back to BookMooch to find a new home.  I will however look into getting hold of a full volume of Charlotte Bronte's juvenilia to replace it so that I can read this properly and give it a fighting chance.
Tea talk: I read this on the train coming home from work.  Train tea is vile.
6 Responses to "Review: 'Mina Laury' by Charlotte Bronte"
Write a comment