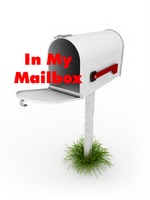 "In my mailbox" is a weekly meme hosted by The Story Siren in which people share the books that they have acquired that week.
Father, forgive me, for I have sinned.  It has been two weeks since my last confession.
Oh dear.  Oh dear, oh dear.  Well, it seems I do nothing by halves.  Not only have I succeeded in going over my 500 book limit for the TBR pile, but I have done so in spectacular fashion. 500 books is now a mere speck in the distance.  Oops.  For me it seems, book limits are like deadlines for Douglas Adams: I like the whooshing sound they make as they fly past.  I think I may have to declare next week 'short book reading week' in order to try to reduce this mountain, at least superficially.  Please bear in mind that this is a fortnight's worth of books, not just one week, and try not to judge me too much.
From local charity shops:
From BookMooch:
Gifts:
The Invention of Hugo Cabret by Brian Selznick – I was given this lovely book filled with gorgeous pictures for my birthday.  It looks really good and I'm looking forward to reading it.
Bought in a big box from Ebay (After realising that almost all of my favourite books this past quarter have been published by Virago, I've become a little obsessed with this publisher, so how could I pass up a box of eleven [well, ten I don't have] Virago Modern Classics for £8?  I've not heard of any of these before, but they all look to be good reads):
Mary Olivier, a Life by May Sinclair
The Birds on the Trees by Nina Bawden
Their Eyes Were Watching God by Zora Neale Hurston
Poor Caroline by Winifred Holtby
All Passion Spent by Vita Sackville-West
Invitation to the Waltz by Rosamond Lehmann
The Weather in the Streets by Rosamond Lehmann
A Wreath for the Enemy by Pamela Frankau
The Return of the Soldierby Rebecca West
Frost in May by Antonia White
So, in summary:
Books off the TBR pile this fortnight – 7
Books on the TBR pile this fortnight – 26 (gulp)
Change – +19
TBR pile stands at – 514 books
3 Responses to "In my mailbox"
Write a comment