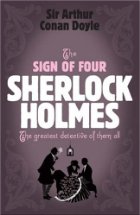 Title: The Sign of Four
Author: Sir Arthur Conan Doyle
Published: Headline Review, 2006, pp. 146.  Original publication 1890.
Genre: Classic mystery fiction
Blurb: As the seamy streets of London drown in a sea of smog, Sherlock Holmes sinks into a drug-induced stupour.  That is, until Miss Mary Morstan presents him with a most intriguing case.  A terrible death, an unknown benefactor, stolen treasure and a secret pact between criminals stretching back to a mutiny-torn India, lead Holmes into an epic pursuit of the truth.
Where, when and why: I ordered this book from Amazon marketplace as soon as I finished the first one because I enjoyed it so much (in fact, I've not even recorded them in a mailbox post, so they're both very recent purchases).  I picked it up to read because it's small and light meaning that, unlike my current main read, it's easy to read on the tube.
What I thought: Although I still liked this book, disappointingly I didn't find it as enjoyable as A Study in Scarlet.  This was primarily because the mystery seems much more distant from the narrative this time and a lot of the interesting parts happened off-stage.  This story is a prime example of telling rather than showing: the reader sees very little detective work but instead the mystery is revealed in a lengthy, involved and rather irrelevant monologue from the culprit after he has been arrested; apparently all guilty people suddenly feel the urge to confess expansively.  I couldn't help but feel rather cheated.
I also thought that the characters are not as well presented in this second Sherlock Holmes story.  Holmes disappears for a lot of it and so the reader misses out on his bizarre and erratic character, being left only with the much less interesting Watson.  I thought Watson's love affair both unbelieveable and unnecessary and the book would have been much better without it.
Nevertheless, there are some wonderful set pieces in this book, notably the chase scenes.  The bloodhound and the police boat which are used at different points in the story to persue the suspected murder may not have the speed of modern equivalents, but Sir Arthur Conan Doyle writes tension-filled chases to rival those seen in James Bond films, full of twists and turns, obstacles and disappointments.  It's parts like these that mean I'm definitely going to continue with the series, but I do hope that it improves.
Whether you're a fan of Sherlock Holmes or not, I definitely wouldn't recommend buying the edition I read, as throughout the book there are occasional superscript numbers for no apparent reason.  I presumed these  must be footnotes, but on turning to the back of the book I found no corresponding numbers and notes so I assume these must be printing errors.  It doesn't get in the way exactly but it looks messy and when there are so many different editions of this story available it makes very little sense to buy a copy with mistakes.
Where this book goes: Given the irritation of this particular edition, I've decided to switch to the rather attractive Penguin Pocket editions for the rest of the series, three of which I picked up in a charity shop last weekend.  I'll keep this book around until I manage to find a copy of it in my new preferred edition, but then it will be off to BookMooch.
Tea talk: Once again, this book was read on the train without tea.  I have got some longer reads coming up soon though, so hopefully I'll have more interesting tea things to report.
One Response to "Review: 'The Sign of Four' by Sir Arthur Conan Doyle"
Write a comment