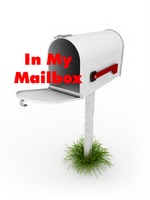 "In my mailbox" is a weekly meme hosted by The Story Siren in which people share the books that they have acquired that week.
For one reason or another (chiefly not being home at the weekends) I've not done one of these for a month now.  Consequently, the book haul looks rather horrendous, I know, and I'm going to have to put a stop to my acquisition habit this month.  This mammoth pile is the combined result of books requested on BookMooch and books from charity shops as usual, with a few thrown in here and there from ebay or Amazon marketplace.  This time around the biggest culprit was a charity shop I passed when I was out pottering during my lunch break which had a sign in the window bearing the fatal words "All books 50p".  Now how was I supposed to resist that?  At least I can ease my book guilt by the knowledge that I'm not spending much money and other people are benefiting from my habit.
I think I'm just going to list these because there are too many of them for me to comment on them all and this would become an incredibly long post.  Now that I've caught up I'll try not to leave it so long next time (oh, and to cut back on the books too, honest).
From BookMooch:
Cold Mountain by Charles Frazier
The People of Lavender Court by Kathleen Dayus
The House of the Seven Gables by Nathaniel Hawthorne
98 Reasons for Being by Clare Dudman
The Witching Hour by Anne Rice
The Melancholy Death of Oyster Boy by Tim Burton
The Enchanted April by Elizabeth Von Armin
The Courage Consort by Michael Faber
Gould's Book of Fish by Richard Flanagan
A Month in the Country by J. L. Carr
The Outcast by Sadie Jones
Winter Rose by Patricia McKillip
Wildwood Dancing by Juliet Marillier
Marie by Madeleine Bourdouxhe
From charity shops:
Desdemona – If Only You Had Spoken by Christine Bruckner
Novel on Yellow Paper by Stevie Smith
Two for the Lions, Last Act in Palmyra and Dying Light in Corduba by Lindsey Davis
Prodigal Summer and The Lacuna by Barbara Kingsolver
Dr Jekyll and Mr Hyde and Other Stories by Robert Louis Stevenson
In the Company of the Courtesan by Sarah Dunant
The World my Wilderness by Rose Macaulay
Hours Before Dawn be Celia Fremlin
Try Anything Twice and Mrs Miniver by Jan Struther
The House in Dormer Forest by Mary Webb
Diana of the Crossways by George Meredith
The Turquoise and The Mistletoe and the Sword by Anya Seton
Miss Mapp, Lucia's Progress and Mapp and Lucia by E. F. Benson
White Swan, Black Swan by Adrienne Sharp
Alone in Berlin by Hans Fallada
The House at Riverton by Kate Morton
Affinity by Sarah Waters
The Eleventh Plague by Darren Craske
Major Pettigrew's Last Stand by Helen Simonson
The Adventures of Sherlock Holmes, The Memoirs of Sherlock Holmes and The Return of Sherlock Holmes by Sir Arthur Conan Doyle
Stardust by Neil Gaiman
Life of Pi by Yann Martel
The Masterharper of Pern by Anne McCaffrey
Blood on the Dining Room Floor by Gertrude Stein
The Lifted Veil by George Eliot
Lady Audley's Secret by Mary E. Braddon
The Shutter of Snow by Emily Holmes Coleman
The Golden Child, The Blue Flower and At Freddie's by Penelope Fitzgerald
The Wedding by Dorothy West
The Blade Itself, Before They Are Hanged and The Last Argument of Kings by Joe Abercrombie
The Great Gatsby by F. Scott Fitzgerald
The Secret Scripture by Sebastian Barry
Henrietta Brandon by Sonia Prentice Clary
A Place of Secrets by Rachel Hore
The Shadows of Elisa Lynch by Sian Rees
From Amazon and Ebay:
William: An Englishman by Cicely Hamilton
The Warden by Anthony Trollope
A Study in Scarlet and The Sign of Four by Sir Arthur Conan Doyle (both read now)
Received for review:
Flowers for Alys by Irene M Redpath
So, in summary:
Books off the TBR pile in the past four weeks – 6
Books on the TBR pile this fortnight – 67 (shhh, don't tell)
Change – +61
TBR pile stands at – 584 books (oh dear)
5 Responses to "In my mailbox"
Write a comment