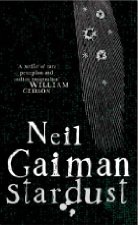 Title: Stardust
Author: Neil Gaiman
Published: Headline Review, 2005, pp. 214.  Originally published 1999.
Genre: Fantasy
Blurb: In the sleepy English countryside at the dawn of the Victorian era, life moves at a leisurely pace in the tiny town of Wall.  Young Tristran Thorn has lost his heart to the beautiful Victoria Forester, but Victoria is as cold and distant as the star she and Tristran see fall from the sky one evening.  For the prize of Victoria's hand, Tristran vows to retrieve the star for his beloved.  It is an oath that sends the lovelorn swain over the town's ancient wall and into a world that is dangerous and strange beyond imagining…
When, where and why: I picked this book up from, surprise surprise, a charity shop.  I loved the film of the book and so thought it would be interesting to read the original work.  I chose it to read because I finished my previous book while I was in the office and this one just happened to be lurking there and looked short enough that it wouldn't divert me too long from the older books languishing on my shelves that I'm meant to be reading.
What I thought: Although I liked this book, I think I would have enjoyed it a great deal more if I hadn't seen the film beforehand.  While both stories follow the same narrative trajectory, the details are nearly always different and I think I'm going to have to commit the sacrilege of saying that I actually preferred the film, which maximises the drama of the story at the expense of some of its subtleties.  I was also extremely disappointed that some of my favourite characters in the film weren't in the book at all.
That said, this is my fault for seeing the film first not an inherent fault of the book, and I did enjoy Stardust.  Neil Gaiman's prose is wonderful to read, both highly descriptive and very appropriate to the fairy tale genre in which he is writing.  I liked the fact that he makes use of lots of the traditional tropes from folk tales, such as things coming in threes, the power of names, question and answer games and the importance of not straying from the path.  There is magic, adventure and whimsy, all reported with the author's tongue placed firmly in his cheek.
I think that ultimately having seen the film spoiled this book for me, but that doesn't mean that it isn't a good read, I just didn't enjoy it as much as I could have done.
Where this book goes: This book is staying and joining my ever-increasing fantasy collection.
Tea talk: I anticipated this book being a quick read and it ended up being so quick that I read it from cover to cover on the train home, so no tea for me.
Write a comment