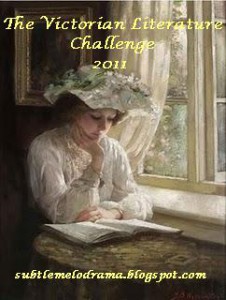 After the fun I had joining in with the R.I.P. Challenge this year I've beein looking around for some challenges to join for the coming year.  Given the immense proportions of my TBR pile, I like reading challenges which provide me with gentle encouragement to read the books I already own, rather than those that tempt me to buy new books (and, lets be honest, I don't need much tempting).
I have a sizeable stack of unread Victorian novels on one of my shelves, which is rather worryingly suspended from the wall above my bed.  As death by collapsing bookshelf à la Leonard Bast in Howards End is not on my list of things to accomplish in 2011 ('get married' and 'buy house' take precedence over 'die excruciatingly painful death') I feel I should probably get around to reading some of them and removing the imminent peril.  Consequently, I was thrilled to stumble across the Victorian Literature Challenge 2011, run by Bethany of words, words, words.  It seems the ideal way to get me reading some of these rather intimidating tomes and also gives me plenty of people with whom to chat about them.  I look forward to seeing what everyone else reads.
What you need to know:

This challenge will run from 01 Jan 2011 – 31 Dec 2011.
Participants can sign up at any time throughout the year.

Read your Victorian literature.
Queen Victoria reigned from 1837-1901. If your book wasn't published during those particular years, but is by an author considered 'Victorian' then go for it. We're here for reading, not historical facts! Also, this can include works by authors from other countries, so long as they are from this period.

Literature comes in many forms.
There are so many Victorian reads out there, including novels, short stories, and poetry. One poem doesn't count as a 'book': pick up an anthology instead!

Choose your books.
List your books before you begin, or pick up titles along the way. It's up to you! You can review them if you choose to, but it's not necessary. If you don't have a blog, that's fine! Link to a Facebook, or a page somewhere where you can list what you've been reading. If you can't link up, no problem – feel free to just comment and enjoy.

Spread the love.

Post the reading challenge on your blog – make your own post(s), or stick the button on the side of your page. The more the merrier, after all. Let's build a big community of Victorian literature lovers!

Choose from one of the four levels:

Sense and Sensibility: 1-4 books.
Great Expectations: 5-9 books.
Hard Times: 10-14 books.
Desperate Remedies: 15+ books.
I think I'm going to aim for the Hard Times level of participation, with the aim of reading one book a month, so twelve in total.  If I manage to read more then I may hit the dizzy heights of Desperate Remedies, but I want to keep things realistic and the aforementioned other items on my list of things to do in 2011 may take up a little bit of my time usually reserved for reading, so I don't want to be overly optimistic.
I plan to leave myself a fair bit of freedom to choose what I read and when, but I've put together a list of possibilities to jog my memory when it comes round to my monthly selection.  Any recommendations from the list are greatly appreciated.
The Warden by Anthony Trollope (1855) – I really want to get to this one as I've been reliably informed that I will love it.
Middlemarch (1871-72) and The Mill on the Floss (1860) by George Eliot – I've tried to read The Mill on the Floss twice now, but I've been unable to get into it.  I thought Silas Marner was excellent though, so I have encouragement.  Should I try the book a third time or try Middlemarch instead?
Mary Barton by Elizabeth Gaskell (1848) – Cranford was such a sweet book that I definitely want to read more from this author, and this is the one that I happen to have on my shelves.
Villette (1853) and Shirley (1849) by Charlotte Brontë - I hope to read Villette before the end of the year, but if not it will definitely be on the list as Jane Eyre is quite possibly my favourite book ever.
The Tenant of Wildfell Hall (1848) and Agnes Grey (1847) by Anne Brontë – I've shamefully neglected this Brontë sister for far too long.  Which one should I try first?
Something by Wilkie Collins – The Woman in White was one of my favourite books that I read this year.  I've already read The Moonstone, but so long ago that I can hardly remember it so I might revisit that one.  Alternatively, I could go for something new.  Any Collins recommendations?
Something by Thomas Hardy – I started to read numerous novels by Hardy numerous times when I was younger but I found him so unrelentingly bleak and depressing that I never made it through a book and now I'm a bit Hardy-shy.  I think this is the year to conquer my fear of Hardy, so which would you say is his most approachable work (no joking and recommending Jude the Obscure)?  I have Tess of the D'Urbervilles and The Woodlanders, but I could probably sacrifice a penny or two to purchase a new book if it happened to be a better read.  It might be best to start afresh anyway.
Something by Dickens – I have a lovely cloth bound set of the complete works of Dickens which I picked up in a charity shop for a mere £15 a few years back, but I've only read the two of his novels that were assigned reading at university (Oliver Twist and Great Expectations) and I want to read more this year.  Any suggestions for where to begin?
19 Responses to "Victorian literature challenge 2011"
Write a comment