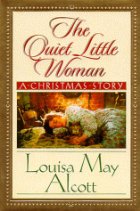 Title: The Quiet Little Woman: A Christmas Story
Author: Louisa May Alcott
Published: Honor Books, 1999, pp. 122.  Originally published 1870s
Genre: Children's short stories
Blurb: "If someone would only come and take me away!  I'm so tired of living here I don't think I can bear it much longer," Patty cries.  Patty's life in an orphanage is a dark world with little hope, beauty or love.  Even after a family finally does come for Patty, it is only because they need a servant.  But there is one person who does care about Patty.  And soon Patty's life will never be the same!
When, where and why: I have to confess, I actually bought this for someone else as a Christmas gift.  I don't usually read books before I give them to people (in fact, I never have before) but then my train home was delayed and I finished my other book and so I had nothing to read!  I was in a state of panic until I remembered that I had this book snuggled safely in a padded envelope in the depths of my bag, heading home to be wrapped.  Desperate times call for desperate measures and so I gave in to necessity and read the book.
What I thought: I firmly believe that any book is better than no book, and that if I were to be marooned on a desert island with nothing to read but a stack of Christine Feehan's terrible vampire books I would plough gamely through them rather than sit around without a book.  Of course, I wouldn't be able to hold anything resembling an intelligent conversation with normal people if I were ever rescued (although I would have an impressive collection of euphemisms for genitalia), but that's besides the point.  Nevertheless, while The Quiet Little Woman, a book of three festive short stories by Louisa May Alcott, filled a bored half hour while stuck in a siding somewhere around Basingstoke, it swiftly transpired that I found it only marginally better than having no book at all, disappointingly.
Anyone approaching this book expecting to read something like Louisa May Alcott's far more famous Little Women is likely to be equally disappointed, I'm afraid.  I found Little Women to be charming and hearwarming yet, although The Quiet Little Woman and Tilly's Christmas (the first two stories in the collection) follow a similar narrative trajectory of poor but worthy girls finding love, warmth and happiness through their own selfless actions, they never achieved this end and so came across as rather sanctimonious.  I think this is partly because the stories are too short to allow much character development; the March girls may be good at heart but they all have faults which make them interesting, whereas Tilly and Patty are never anything other than perfect and boring.
Rosa's Tale is a better story, as it deals with a horse rather than a painfully good child and so the rather hamfisted moral message which so irritated me in the first two stories is thankfully absent.  However, it reads like a paraphrase of Black Beauty rather than an original story and feels rushed.  Having read this book, I don't think that the short story is Alcott's medium, or at least it is not one which translates very well for a modern reader with modern expections.  On the whole, I found the collection to be sweet to the point of being sickly and moralistic to the point of being trite.
Where this book goes: This book is winging its way to the person for whom I bought it.  I really hope that they like it more than I did.
Tea talk: As this was a train book, there was no tea to be had.
3 Responses to "Review: 'The Quiet Little Woman' by Louisa May Alcott"
Write a comment