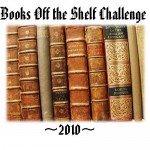 Title: Christmas Carols for Cats
Author: Julie and John Hope.  Illustrated by Sue Hellard
Published: Bantam Books, 1998, pp. 29.  Originally published 1996
Genre: Humour poetry
Blurb: A witty, charming treasury of traditional Christmas carols -rewritten by cats for cats – includes such classics as "The Twelve Days of Catmas," "We Wish for the Fam'ly Goldfish," and "Bark! The Hairy Scary Things."  (Goodreads.com)
When, where and why: I was given this book by Father Christmas in my stocking several years ago.  I felt the need for something light, festive and amusing to read, so this seemed the ideal book to pick up before bed.  It counts as book 35/50 for my Books Off the Shelf Challenge.
What I thought: Christmas Carols for Cats is great fun.  It features twelve well-known Christmas songs and carols rewritten so that the centre around cats (as all things in life should, I feel).  The adaptations are clever and witty and they scan so well that I found myself humming them under my breath as I read the book.  There are a few contributions which don't work quite as well, in my opinion, such as 'Collar Bells' which is set, unsurprisingly, to the tune of  'Jingle Bells', but I found something to enjoy in every single song.  The illustrations by Sue Hellard which accompany the carols are perfect, bringing out the humour of the words and enhancing it through their appealing depictions.
One of my favourite songs in the book is 'The First Slow Yell' to the tune of 'The First Noel', something which will be familiar to all owners of hungry cats:
The first slow yell for you as you lay

Asleep in the morning on Christmas Day

O do not snore please get out of bed

It's seven o'clock and I haven't been fed.

O Yell O Yell O Yell O Yell

Feed me at once or I'll make your life hell.

To lay a-bed is an awful disgrace

Get up right now or I'll sit on your face

My furry paw 'neath the covers will crawl

Fill up my bowl or I'll caterwaul.

O Yell O Yell O Yell O Yell

Feed me at once or I'll make your life hell.

Your last big chance now give us a break

I've clawed at your nightshirt you should be awake

I'll niggle and naggle, be ever so rude

For nothing else matters when I want my food.

This would definitely be the perfect Christmas gift for any cat owner or cat lover.
Where this book goes: I'm going to hang on to this book to read again at future Christmas times.  It's a good, quick read, great for sharing with others and guaranteed to make me smile.  What more could anyone want at Christmas?
Tea talk: I indulged in a whole pot of English Afternoon Tea from St James' while reading this book and a few other little Christmas books which will be reviewed shortly.  It was rich and mellow and just what I wanted.
Write a comment