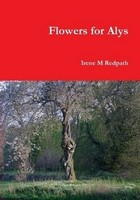 So far, I haven't had much luck with the books of which I've received free copies for review from Goodreads and LibraryThing.  More often than not, I read the descriptions thinking "Oooh, what an interesting concept!" and eagerly click the request button but the books haven't really lived up to my expectations when they've arrived.  So when Flowers for Alys arrived and I saw that, like my previous early reviewer books, it was self-published, I could feel my heart sinking.  Which just goes to show that I shouldn't be so prejudiced because I couldn't have been more wrong about Irene M. Redpath's book.
Flowers for Alysis set in an unspecified time which I presume is the middle ages in an unspecified place which, again, I presume is England.  It centres around Jenet, a young woman who has a disfigured mouth which renders her mostly unable to talk and hence is also presumed deaf.  Jenet adopts a baby whom she finds lying abandoned by the side of a river, and raises her despite the ensuing difficulties.  As the infant, given the name Fleur, grows up, it becomes clear that she is a remarkable child in a great many ways.
This is a quiet, simple, heartfelt book, which refreshingly abandons lengthy descriptions and elaborate prose in favour of a more straightforward writing style which really suits the little tale that Redpath tells.  For all its simplicity, her writing conveys strong emotions, particularly in the first chapter when we learn the origins of the abandoned baby.  The closing lines of this chapter, intriguingly titled 'The End', are heart-wrenching and I think that more complicated prose would have spoiled the impact that they have.  The final chapter, which, in corresponding backwards fashion is titled 'The Beginning' was also well written.
Although this book is light on characterisation, at a mere 115 pages I wasn't expecting in-depth analysis and the somewhat sketchy character profiles are all that is necessary to carry the story.  Jenet is innocent, reliable and homely, and the occasional glimpses inside her head provide an interesting perspective.  Fleur is particularly intriguing in her fey ways, and it would have been nice to see a bit more of her.  I liked the scenes of her being inexplicably drawn to the river where she was found and her strange rituals with flower petals which become so important.
Of course, this book isn't perfect.  The representation of perceptions of disability in the middle ages is woefully inadequate; I felt as though Jenet's disabilities were used casually as an excuse to justify her not having married and without consideration for the implications of this.  However, although this was an issue it bothered me less than I expected because the book reads more as a parable with a historical setting than as a strictly historical novel.  I also thought that the magical overtones could perhaps have benefited from some expansion to make them sit better in the story as a whole. 
This was a quick, enjoyable read and I'm really glad to have finally received a self-published book about which I am happy to say that!
Flowers for Alys by Irene M. Redpath.  Published by Lulu, 2010, pp. 116.  First edition.
2 Responses to "'Flowers for Alys' by Irene M. Redpath"
Write a comment