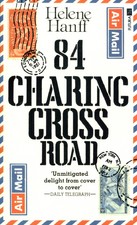 I'm not sure why I'm so biased against non-fiction books, as I always seem to enjoy them whenever I can finally bring myself to read one.  Whatever the reason, I don't tend to pick one up unless I actively decide to do so, and so one of my bookish resolutions this year is to read more non-fiction books.  I am doing this but I am, however, easing myself in gently.  I will not be sitting on the train reading lengthy and complicated science books, full of arcane formulae and incomprehensible diagrams, for quite some time, if ever.  Instead, I'm focusing on memoirs, biographies, diaries, essays and letters, with the odd bit of literary criticism thrown in for variety; things that still read like fiction, in other words.  I do feel as though I'm cheating a tiny bit, particularly when the book in question is quite as enjoyable as 84, Charing Cross Road by Helene Hanff.
84, Charing Cross Road comprises a series of letters representing twenty years' worth of correspondence starting in 1949 between Helene Hanff, an America writer, and the staff of the antiquarian booksellers Marks & Co.  Initially, these letters are purely book orders, but soon the become less and less formal as an unlikely friendship springs up between Helene and Frank Doel, the chief buyer.  My copy of the book also includes The Duchess of Bloomsbury Street, Helene Hanff's diary of her trip to England following the publication of these letters in the form of the first book.
Helene Hanff's writing style in the letters that make up 84, Charing Cross Road is wonderful to read.  It is frank, forthright, highly opinionated and overflowing with humorous warmth and it doesn't take long for book purchasing to seem merely incidental rather than the purpose of her writing.  It is also extremely enjoyable to see the friendship emerge between Hanff and Frank Doel as his reserve and formality (partly from being professional, partly from being British) are inexorably worn down by the sheer force of her personality.  Soon they are discussing rationing in post-war Britain (although never with any complaining, of course), gifts are exchanged, and other members of the bookshop staff and of Doel's family are joining in with the correspondence.  It didn't take long for me to feel involved in all of their lives and I was surprised at how emotionally attached to the characters I became.  I only wish that more of these letters had been saved, as it is evident from references in some of the letters in the collection that there were others which must have been sadly lost.
The Duchess of Bloomsbury Street, while still enjoyable, lacks some of the easy charm of 84, Charing Cross Roadand I think this is because the writing in the first book is entirely unselfconscious as it was private correspondence and never intended for publication, whereas the second installment is written without this ease, although with the same wit and vivacity from Hanff.  It is lovely to witness her reactions as she discovers 'the England of English literature' and I couldn't help but smile at her delight in what she found.  In fact, Hanff spends most of this book exploring the streets that I walk every day on my way to and from work, so I found it particularly welcome to receive such an enthusiastic outsider's perspective on things that I've stopped noticing; it make me start taking a look again.  I did miss the variety of tone that Frank Doel's slightly staid and stuffy but still loveable letters provided in the first book, but nonetheless I found this an excellent read.
84 Charing Cross Road by Helene Hanff.  Published by Futura, 1983, pp.220.  Originally published in 1970 and 1973. 
4 Responses to "'84, Charing Cross Road' and 'The Duchess of Bloomsbury Street' by Helene Hanff"
Write a comment