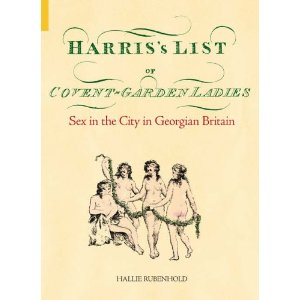 When I was reading Michael Faber's novel The Crimson Petal and the White recently, I was struck by the frequent references to the infamous More Sprees in London, a little book detailing the different prostitutes available around the town, where to find them, what they charged and to which particular specialties each one would cater.  The chief reason that I was so intrigued by the mention of this book is that, although Faber's creation is fictional,  such books did indeed exist.  Perhaps the most famous example of such a volume is Harris's List of Covent Garden Ladies which is not Victorian but Georgian, updated each year between 1757 and 1795.  During the time that it ran, it sold more than a quarter of a million copies (a huge amount for any book at the time), indicating quite how many men there must have been out looking for a good time in London.  It seemed fortuitous then when I stumbled across a copy of Harris's Book of Covent Garden Ladies: Sex in the City in Georgian Britain by Hallie Rubenhold, which collects the most interesting and diverse entries from various editions of the List, focussing on the year 1793, and compiles them for the modern reader.
Rubenhold's edition starts out with an informative and interesting introduction which puts the List into its historical context.  Harris's List was not written by a man named Harris at all, but by an Irish poet named Samuel Derrick who had fallen on hard times and needed to find a way to keep himself out of debtor's prison.  Jack Harris was a notorious London pimp who allowed Derrick the use of his influential name and his extensive list of contacts in return for a one time fee, and so he only became bitter while Derrick became increasingly wealthy.
The entries on each girl provide a surprising amount of detail, and they are often miniature character studies rather than just bawdy adverts promising pleasures.  Obviously there is physical description and a summary of which particular tastes a girl caters to along with her prices (as a rule, the more specialised the tastes, the higher the price) but there are also details such as how she came into 'the public life' as the List euphemistically terms it.  In some cases, the writer expresses sympathy for a girl who has been led astray by a man and is forced to turn to this particular line of work, as in the case of Miss Char-ton:
This is an old observation, but certainly a true one, that some of the finest women in England are those, who go under the denomination of ladies of easy virtue.  Miss C- is a particular instance of the assertion; she came of reputable parents, bred delicately, and her education far superior to the vulgar; yet the address of a designing villain, too soon found means to ruin her; forsaken by friends, pursued by shame and necessity; she had no other alternative, than to turn -, let the reader guess what.  – She was long a favourite among the great, but some misconduct of hers, not to be accounted for, reduced to the servile and detestable state of turning common.  She is a fine figure, tall and genteel, has a fair round face, with a faint tinge of that bloom she once possessed, is rather melancholy, 'till inspired with a glass, and then is very entertaining company.  (pp. 56-57)
In others, girls appear to bring about their own falls through their lusty natures and to thoroughly enjoy doing so, like Miss Jo-es:
This lady was born in the country, but the circumstances of her parents, when she was sufficiently grown up, obliged them to send her into London to get a livelihood, she was not long before she got a place in St. James's Market, where, whither, by being accustomed to see the poor lambs bleed, or rather a desire of becoming a sacrifice to the goddess of love, is left for the reader to judge, but she was shortly found stabbed to the heart in the most tender and susceptible part of her body, in short she was unable to withstand the powerful impulse of nature any longer, so was ravished with her own consent, at the age of sixteen; her mistress on the discovery, thought proper to send her going, for fear her good man should take it in his head to kill the lamb over again.  She began now to show the bent of her inclinations, she listed under the banners of Cupid, and marched at the head, being of a courageous disposition, and always ready to obey standing orders, she had great success, and often made the enemy to yield, by which means she gained no inconsiderable share of spoil, but her charitable disposition, (being always ready to relieve the naked and needy) soon reduced her. (pp. 69-70)
As you can see, this book contains euphemisms a-plenty.  At times it felt like reading one of Shakespeare's dirtier plays, the amount of veiled references to sex, body parts, prostitutes and plenty of less orthodox sex acts there were.  As a social and cultural historian this must be a fascinating book to examine.
However, it might not come as a shock to learn that I am not a jolly Georgian gentleman out looking for a good time, and so consequently a lot of these descriptions started to blur into one after a while.  They were interesting, and the book itself is fascinating because of what it is, but there were just too many of them without anything to break them up for it to be a riveting read.  In the final section of the book which looks at excerpts from outside 1793 the girls are grouped together by type (red heads, foreign beauties, buxom etc.) and I think I might have enjoyed it more had the whole book been arranged like this with some sort of commentary from the author accompanying each section.  I know Rubenhold has written two other books on the subject: The Covent Garden Ladies: Pimp General Jack and the Extraordinary Story of Harris's List and The Harlot's Handbook, both of which sound as though they are more along those lines, using the List as a means of illustrating a point rather than as the raison d'etre of the book.  I'll definitely be on the lookout for these as this has proven to be an unexpectedly fascinating topic.
Harris's List of Covent Garden Ladies: Sex in the City in Georgian Britain by Hallie Rubenhold.  Published by Tempus, 2005, pp. 158.  First edition.
2 Responses to "'Harris's List of Covent Garden Ladies' by Hallie Rubenhold"
Write a comment