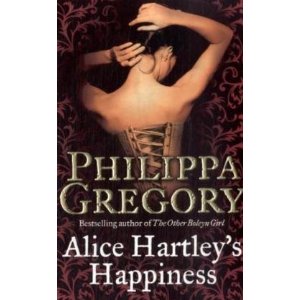 There are a lot of authors whose books I can pick up without knowing any specifics but with a fair idea of how the book will go.  Dickens?  Deserving poor, a host of comedic supporting characters with amusing names, and a downtrodden central character who is elevated through their own goodness.  Angela Carter?  A twisted, chaotic storyline which never develops quite how you might expect, accompanied by a liberal helping of sex and possibly spiced up with a bit of incest.  Philippa Gregory?  Bodice-ripping historical romps with a dubious regard for accuracy, compensated for by lots of sex.  This is comforting: sometimes I like a surprise, but often it's nice to know exactly what sort of book I have in my hands before I begin reading.  However, some books seem to exist purely to shatter my illusions and to break the authorial mould by being so different from what I associate with an author that I wouldn't have believed it if I hadn't read it myself.  Alice Hartley's Happiness is just such a book.
Alice Hartley is the plump, middle aged wife of a university professor, has a penchant for new age theories, floaty scarves and lots of sex.  When she finds out that her husband is having an affair with one of his students, Alice decides that what's sauce for the goose is sauce for the gander (or vice versa) and promptly drives off in a removal van with one of her husband's students who has come to collect a desk that he promised to lend the drama group for a play.  Not only do they take the desk, but also every other scrap of furniture in the house.  They are left with nowhere to put it until Michael's Aunt Sarah dies, leaving him with her country house.  And so begins the establishment of Alice's growth centre, an alternative, disorganised establishment where sex is free and people are happy.
With the exception of the fact that it still inclused quite a bit of sex, Alice Hartley's Happiness could not be more different from the usual Philippa Gregory fare.  It's setting is modern, the characters are all unknowns and the tone is light and amusing.  The plot is utterly absurd, encompassing everything from unexpected resurrections to dolphin assisted births in the local aquarium, but Gregory acknowledges this and runs with it, resulting in a novel which is not afraid to laugh at itself and have fun while doing so.
For all that her historical novels are light, easy reading, I've never found Gregory to be an author who exhibits a particularly pronounced sense of humour, so the wry, detached tone of Alice Hartley's Happiness is rather surprising.  However, it is definitely a welcome surprise; it's always pleasant to learn that an author suspected of being something of a one trick pony (however enjoyable those tricks may be) is actually rather good at other things too.  Take, for instance, the way she introduces Alice's husband, Professor Hartley:
 Professor Hartley was at that time in his life when a man demands of himself what is the meaning of life, asking: 'For what was I born?  And is this all there is?  And what of the great quests which have motivated men through the ages?  Where am I going?  And what is the Nature of Individualism?  Or, more simply: Who am I?'

Like all men who courageously confront great questions of identity and truth, Professor Hartley came to one conclusion.  Unerringly, untiringly he struggled through his boredom and his despair until he found the source of his discontent, the spring of his angst, his own private darkness.  It was all the fault of his wife.
Instantly she conveys how pompous and self-absorbed Professor Hartley is, and the bathos of that last sentence is superb.  The humour is all the more enjoyable because it is so unexpected.  This surprising change of tone is also apparent in her treatment of sex, which is just as abundant as in her historical novels.  However, in this book the sex scenes are silly, improbable and downright funny at times.
If you pick this book up looking for a typical Philippa Gregory novel you are bound to be disappointed.  On the other hand, if you turn to it looking for an entertaining and somewhat ridiculous read then it's actually rather good, and Philippa Gregory continues to fulfil her role as the author of some perfect guilty pleasure reading.
Alice Hartley's Happiness by Philippa Gregory.  Published by Harper Collins, 2009, pp. 257.  Originally published in 1992.  Also published under the title Alice Hartley and the Growth Centre.
2 Responses to "'Alice Hartley's Happiness' by Philippa Gregory"
Write a comment