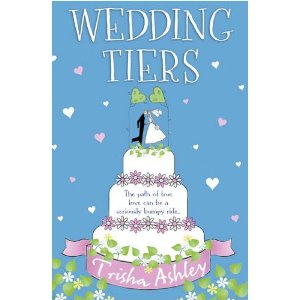 A while ago, I spent a very unpleasant morning paying my dentist a great deal of money to cause me a great deal of pain.  What I thought would be a simple (hah!) wisdom tooth extraction ended up as a surgical procedure, complete with opening my gums, shaving bits of bone off my jaw, and finally stitching me back together again.  Curse you, parents, for your horrible tooth genetics!  I spent the weekend afterwards drifting in and out of sleep thanks to some very strong painkillers, so I needed to select a book I could read without it mattering that I might suddenly fall asleep as I would be able to pick it up again without any confusion when I woke up again.  I needed something uncomplicated and familiar, which didn't make any demands on me as a painkiller-addled reader but which was still entertaining.  With this in mind, I decided it was high time to dig into the pile of wedding related chick lit that I've accumulated and Wedding Tiers by Trisha Ashley was the one that I selected in my hour of need.
Josie Gray is a thirty-something woman living an idyllic life in the small Lancashire village of Neatslake.  She lives in her grandmother's old cottage with her childhood sweetheart, Ben, growing and trading for as much of their produce as possible, and supplementing their income with Josie's weird wedding cakes, her column for the cult magazine Skint Old Northern Woman and Ben's occasional artwork sales.  When Josie's oldest friend Libby returns to the village and decides to launch a wedding business in the nearby manor house, Josie becomes drawn in to help.  However, Ben is spending more and more time in London and soon it transpires that he has been less than honest with Josie, leaving her disillusioned.  She vows never to believe in love again, but photographer Noah Sephton seems determined to change her mind.
There are no surprises in this book but, to be honest, I didn't expect any.  The plot was formulaic but then it usually is in this type of book, and that was exactly why I read it when I wasn't feeling up to much mental exertion.  It's a book which just requires to relax and enjoy being entertained.  Because entertaining it is, for all I knew what would hapen before I opened the book.  Ashley may follow a preordained plot, but the setting in which she chooses to place it is rather lovely.  I enjoyed reading about Josie's homely life in the country with her chickens, her bartering and her gardening.  Her kitchen activities, making jams and wines and various cakes and biscuits are particularly appealing and the recipes at the back of the book make this aspect of the novel seem particularly real and important, enabling the reader to follow suit if they so choose.  Baking is something that I love doing, given half a chance, so I was able to relate to that and it engaged my interest.
The society surrounding Josie is also rather sweet and pleasant to read about.  The secondary characters all have individual personalities, from the three eccentric Grace sisters who knit, crochet and embroider for all they're worth to womanising soap star Rob to Josie's loyal uncle Harry who takes great delight in outliving his friends.  Although none of them are particularly realistic, they add colour and interest to the story.
If Josie herself were any more dense she would have her own gravitational pull.  Even if this hadn't been the sort of novel in which it is a truth universally acknowledged that the seemingly perfect boyfriend with whom the heroine begins the book will turn out to be an utter bastard by the halfway mark, I could have guessed that Ben was having an affair long before Josie does.  In fact, she never does manage to guess, despite a number of hints to that effect which are as subtle as being hit with a brick, and eventually has to be told.  Later on in the novel she proves equally dim when new romantic opportunities present themselves.  Had she not been such a likeable character for other reasons she would have been very annoying, but as it stands she is saved by her sweetness and by the charm and wit she displays in the excerpts from her magazine column which begin each chapter.
I'm not exactly sure what Ashley was trying to add by introducing a subplot of potential incest.  It doesn't add tension because this is clearly the sort of pastel covered book in which everything works out for the best and no one gets hurt (except ex-boyfriends, who get what they deserve, naturally), it isn't treated sensitively and seems to be a sort of throwaway plot device which is resolved so quickly and effortlessly that it seems pretty pointless.  In fact, I found it rather distasteful and an incongruously serious subject for such a fluffy novel.
Incest aside, I rather enjoyed the distraction from dental pain provided by this light, fun, quick read.  It's a good, solid example of the genre and a pleasant way to spend a lazy afternoon when you don't want to think too much.
Wedding Tiers by Trisha Ashley.  Published by Avon, 2009,pp. 414.  First edition.

2 Responses to "Review: 'Wedding Tiers' by Trisha Ashley"
Write a comment