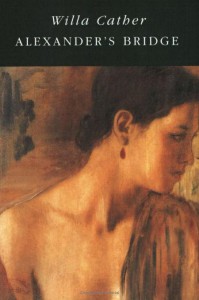 When you come across the name of an author that you're certain you're going to love, how do you decide where to start with reading their work?  With the exception of books which have a series order which I will always follow religiously I have never consciously decided to read an author's work in any particular order.  But when I found Alexander's Bridge in my hands and turned it over to read on the back cover that it was Willa Cather's first novel I thought it might be interesting to start at the very beginning (for it is, as Julie Andrews teaches us, a very good place to start).
Alexander's Bridge tells the story of Bartley Alexander, an American engineer famed for building bridges.  He lives a perfect life in Boston with his loving, supportive wife Winifred.  However, his life starts to unravel when business takes him to London and he meets Hilda Burgoyne, an Irish actress with whom he had been in love when he was younger.  He begins to question how happy he really is and soon finds himself divided in two and under the terrible strain of leading a double life.
It seems that I picked a particularly interesting author for my reading in order experiment, as Cather later distanced herself from this first novel of hers, saying that it 'does not deal with the kind of subject matter in which I now find myself most at home' (p. v) and that:
The difference in quality in the two books is an illustration of the fact that it is not always easy for the inexperienced writer to distinguish between his own material and that which he would like to make his own.  Everything is new to the young writer, and everything seems equally personal.  That which is outside his deepest experience, which he observes and studies, often seems more vital than that which he knows well, because he regards it with all the excitement of discovery. (p. v)
She continues: 'The writer, at the beginning of his career, is often more interested in his discoveries about his art than in the homely truths which have been about him from his cradle.' (p. vi)  Certainly, this book was not what I was expecting from what I have heard about Cather's later and more famous works.  Alexander's Bridge has quite an urban focus, which I hadn't anticipated, and the way that it develops puts me in mind more of Edith Wharton's Age of Innocence than what I had been awaiting from Cather.  The plot does feel a little strained at times, and this may well be because she is trying to mimic other literature than to write her own, although equally it may reflect the tensions between the characters, echoed in the bridges that Alexander builds.
However, I do not agree that this makes Alexander's Bridge a book filled with 'youthful vanities and gaudy extravagances' (p. vii) as Cather terms these early works of a writer; although the plot is somewhat lacking there are moments in the writing of quiet introspection and deep beauty.  For all it feels as though she is writing someone else's plot, she still does so from her own perspective and with her own perceptive vocabulary, allowing the emotions of her characters to shine through in a way that is instantly understandable.  Take, for instance, her description of Bartley Alexander's thoughts as he becomes increasingly dissatisfied with his perfect life:
His existence was becoming a network of great and little details.  He had expected that success would bring him freedom and power; but it had brought him only power that was in itself another kind of restraint.  He had always meant to keep his personal liberty at all costs…  He happened to be a engaged in a work of public utility, but he was not willing to become a public man.  He found himself living exactly the kind of life he had determined to escape.  What, he asked himself, did he want with these genial honours and substantial comforts?  Hardships and difficulties he had carried lightly; overwork had not exhausted him; but this dead calm of the middle life which confronted him — of that he was afraid.  It was like being buried alive.  (pp. 49-50)
Moments like this one make the novel worth reading, despite the disappointing storyline.  It shows a thoughtfulness, an insight and an awareness of humanity which hopefully develops into something really special in her later works.  I can't wait to continue on my journey through Cather.
Alexander's Bridge by Willa Cather.  Published by Virago, 1990, pp. 176.  Originally published in 1912.
One Response to "Review: 'Alexander's Bridge' by Willa Cather"
Write a comment