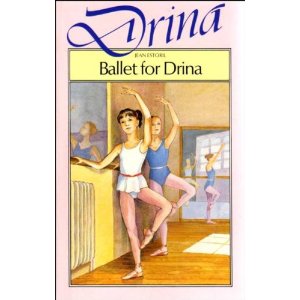 Like a great many little girls, I took ballet lessons when I was younger.  I was never particularly good at it and I stopped taking exams when they required that I start pointe work, but I really enjoyed it.  As an adult, I still really enjoy ballet but, though I do take the occasional class from time to time, I mostly enjoy watching it.  When a lot of the books that I'd been saving from childhood were ruined by water damage a few months ago, the huge stash of ballet books reminded me of how much I had liked reading about it as well.  Among my favourites were the Drina books be Jean Estoril, all of which were sadly beyond salvage, so I've been slowly reacquiring them to see if they've stood the test of time and so far I'm rather enjoying the experience of rereading them.
In the first installment in the series, Ballet for Drina, the reader is introduced to Drina, a little girl who lives with her grandparents, Mr and Mrs Chester, following the death of her mother and father when she was very young.  She loves to dance but has never been allowed to take lessons and her grandmother refuses to discuss why.  When Drina changes schools she makes friends with Jenny Pilgrim, who hates dancing and wants to work on a farm but whose mother insists she take ballet classes.  Eventually Mrs Chester bows to pressure and allows Drina to join in, until Mr Chester's job takes the family away from Warwickshire and the ballet school that Drina loves to live in London.
This book was exactly how I remember it from when I was little: simple and uncomplicated but sweet and charming.  Reading as an adult there is never any real tension or suspense as it is abundantly clear how things are going to pan out from the very beginning, but I remember feeling every one of Drina's emotions as she suffers the agonies of not knowing whether she will be able to continue with her beloved dancing classes.  It evokes the strong feelings of childhood, in which everything is either the best thing ever or the end of the world, very well, but does not do so in a reflective way which might broaden its appeal to adults as well.  Ballet for Drina is unashamedly a children's book. 
I'm not sure how much of my enjoyment of this book is due to happy memories of having read it as a child, but it remains an absorbing way to pass an hour.  Sometimes it is nice to read a gentle, relaxing book in which there are no real surprises and everything works out for the best.
Ballet for Drina by Jean Estoril.  Published by Macdonald, 1988, pp. 176.  Originally published in 1957.
2 Responses to "Review: 'Ballet for Drina' by Jean Estoril"
Write a comment