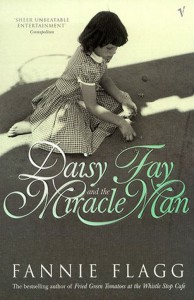 Sometimes an author is known for one book more than any other, and this is certainly true of Fannie Flagg, best known as the author of Fried Green Tomatoes at the Whistle Stop Cafe.  Whether it's because this is her best book or whether it's because of the film, I don't know as, though I've had that book on my shelves waiting to be read for more than a year now, but somehow it was the less well-known and more recently acquired Daisy Fay and the Miracle Man which I ended up reading first.
The novel is divided into two sections.  In the first, Daisy Fay lives with her Momma and Daddy in the largely deserted coastal town of Shell Beach, running a failing malt shop with with mysterious contents hidden in the freezer.   In the second, seven years after the book begins, Daisy leaves Shell Beach to compete in the Miss America Pageant.
The book is written in diary form and the distinctive and engaging voice of the narrator is apparent from the very first words of Daisy Fay and the Miracle Man:
Hello there…my name is Daisy Fay Harper and I was eleven years old yesterday.  My Grandmother Pettibone won the jackpot at the VFW bingo game and bought me a typewriter for my birthday.  She wants me to practise typing so when I grow up, I can be a secretary, but my cat, Felix, who is pregnant, threw up on it and ruined it, which is ok with me.  I don't know what is the matter with Grandma.  I have told her a hundred times I want to be a tree surgeon or a blacksmith.
The most wonderful thing about this book is undoubtedly Daisy Fay herself.  Unlike a lot of young characters in literature I read, she is neither wise beyond her years nor imbued with an idealised amount of childlike innocence: Daisy is a perfectly believeable eleven year old.  She is bright and knows her own mind (although her opinions are sometimes rather impractical, as with her choice of career), but she is also quick to be swayed by others and is anxious to please.  She is independent, adventurous and optimistic; she's the type of character who epitomises the word 'spunky'.  The big gap between her warm, funny narration and her frequent lack of understanding of the things she describes, obvious to the adult reader, means that Daisy Fay and the Miracle Man is at once one of the most humorous and one of the most heart-wrenching books that I've read this year.
Her character shines through when she writes her own will, believing that she is likely to be killed:
This is my last will and testament and I am sorry it is so small, but as you know, most of my stuff burned up.  I leave my sweetheart pillow to my mother.  I leave my clothes to Michael, even though he will probably not want to wear that one pair of girls' blue jeans.  If not, give them to Patsy Ruth Coggins.

I leave my cat, Felix, to my daddy.

And the last thing I have to say is that I am responsible for burning down the malt shop.  I did it by mistake, so don't try and take the insurance money away from Daddy.

It wasn't enough anyway.
It is not just Daisy Fay who leaps off the page; there is a whole host of characters who are bold, brash and entertaining but which manage to stay just the right side of believeable.  My favourite was Mrs Dot, self styled society lady who runs the debutante society in Shell Beach and is always dispensing little pearls of nonsensical wisdom.  Thanks to her I now know that:
Sincerity is as valuable as radium.
A lot of the events that take place are slightly ridiculous, such as Daisy's daddy making her use an inexpertly stuffed fish to win a fishing competition or pretend that she has come back from the dead so that she can make money by preaching, but the story and the situation still feels remarkably real.  I think it's because the novel is less about what happens and more about who it happens to; it is the characters who are most important and they are excellent.
The way in which Fannie Flagg opens the second section of the novel had my heart breaking for Daisy. When Daisy's story picks up again she has aged convincingly although in a way that made me ache for her.  Still ultimately vulnerable and still desperate to please, she is less open than when the reader met her before.  Almost inevitably, she has grown a brittle shell around her and though she remains as bright and funny as before she has lost her innocence.
Skimming back through this book to review it, I was reminded of how much I loved it at the time.  Part of me wants to sit here and reread it right away, it's just that good, but I think I'll wait and instead not leave it too long before reading one of her other books.  Thankfully there are a few of them.
Daisy Fay and the Miracle Man by Fannie Flagg.  Published by Vintage, 1993, pp. 320.  Originally published as Coming Attractions in 1981.
2 Responses to "Review: 'Daisy Fay and the Miracle Man' by Fannie Flagg"
Write a comment