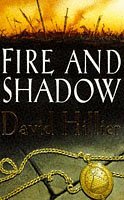 It is the time of the Third Crusade, and Isabel is about to marry when her parents are murdered. She suspects the Earl de Mortaine is involved, and learns that he is trying to eliminate the king's supporters while the king is fighting in Jerusalem. Isabel travels there to report what is happening. 
(
Goodreads Summary
)
I think I would have enjoyed this book more had it been able to decide whether it wanted to be a novel of the crusades or a sort of medieval 'Da Vinci Code' if the author couldn't manage to blend the two ideas together. As it was, these two storylines sat alongside one another rather uneasily; instead of running along concurrently and each aspect enhancing the other, they seemed to take it in turns for a bit. I often found I (along with the author, it seems) had forgotten about the importance of the mysterious medallion, despite its supposedly being the driving force of Isabel's journey, and so was taken by surprise when the interesting crusades narrative was put aside for lengthy passages about Templar conspiracies and Jewish mysticism. Unfortunately neither story received the attention it deserved and so both felt rather lacking.
I also had problems with the main character, in that she was utterly unsympathetic. Now, I don't read books just because they have 'nice' people in them. Some of the best books I've read have had characters that I loathe, but find fascinating and interesting nonetheless. Isabel is not such a character. Throughout the book she alternates between whining and whinging at the plight of medieval women and then utterly failing to behave like one as she selfishly pursues her own desires anyway. None of the other characters ever really developed beyond 'oppressed woman' or 'rough warrior with a secret', so Isabel was my only companion for the whole book, and she was just annoying.
According to the afterword, this novel was developed from some manuscript fragments recounting the real journey of Isabel. I'd love to read these, as such an account would be fascinating and I don't feel that this book does it justice.
Fire and Shadow by David Hillier.  Published by Little Brown, 1996, pp. 501.  First edition.
N.B. This is an old review written in 2010 and posted on Goodreads and LibraryThing before I started keeping track of all the books I read here at Old English Rose Reads.  I've decided to keep copies here so that this remains a complete record of my reading since I started reviewing books for my own pleasure.
Write a comment