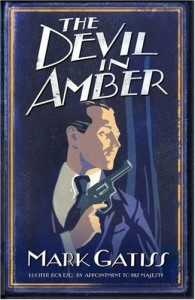 Lucifer Box – portraitist, dandy and terribly good secret agent – is feeling his age. He's also more than a little anxious about an ambitious younger agent, Percy Flarge, who's snapping at his heels. Assigned to observe the activities of fascist leader Olympus Mons and his fanatical followers, or "Amber Shirts," in F.A.U.S.T. – The Fascist Anglo-United States Trinity (an acronym so tortuous it can only be sinister) – in snowbound 1920s New York, Box finds himself framed for a vicious, mysterious murder.  Using all of his native cunning, Box escapes aboard a vessel bound for England armed with only a Broadway midget's suitcase and a string of unanswered questions: What lies hidden in the bleak Norfolk convent of St. Bede? What is "the lamb" that Olympus Mons searches for in his bid for world domination? And what has all this to do with a medieval prayer intended to summon the Devil himself?  (Goodreads Summary)
I was hugely disappointed with this book. I enjoyed its predecessor 'The Vesuvius Club' so much that I raced through it in a day and went straight onto the second in the series. Unfortunately it suffers by comparison. A lot.
What made the first book such a good read was the dry humour of the narrative style and the characterisation of the delightfully bad Lucifer Box, but both of these key features were decidedly patchy in 'The Devil in Amber'. It has moments of brilliance (who could fail to be drawn in by the fantastic opening line, 'He was an American, so it seemed only fair to shoot him'?) but these are well-hidden among standard dross. Mark Gatiss seems to do a lot more telling the reader what was happening than letting us see it coloured through Lucifer's disdainful perspective. It was like reading a book written to be made into a film rather than read and appreciated as a novel. It remains a fun read, but I sincerely hope that the third installment lives up to the standards of the first book and not the second.
The Devil in Amber by Mark Gatiss.  Published by Pocket Books, 2006, pp. 248.  Originally published in 2006.
N.B. This is an old review written in 2010 and posted on Goodreads and LibraryThing before I started keeping track of all the books I read here at Old English Rose Reads.  I've decided to keep copies here so that this remains a complete record of my reading since I started reviewing books for my own pleasure.
Write a comment