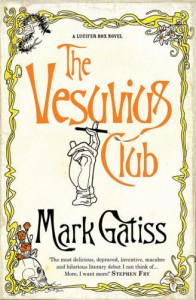 Meet Lucifer Box: Equal parts James Bond and Sherlock Holmes, with a twist of Monty Python and a dash of Austin Powers, Lucifer has a charming countenance and rapier wit that make him the guest all hostesses must have. And most do.  But few of his conquests know that Lucifer is also His Majesty's most daring secret agent, at home in both London's Imperial grandeur and in its underworld of despicable vice. So when Britain's most prominent scientists begin turning up dead, there is only one man his country can turn to for help.  (Goodreads Summary)
I liked everything about this book, from the bizarre but neatly self-contained plot to the delightfully improbable character names. Lucifer Box is an enjoyably depraved anti-hero with the louche, disaffected air of one of Oscar Wilde's creations. His wry first person narrative style was amusing and easy to read, so I sped through this book in less than a day. The book was missing the final sparkle and wit of Wilde's writing, but it seems unfair to criticise one author for not being enough like another, and this did not detract from what was a thoroughly entertaining mystery.
The Vesuvius Club by Mark Gatiss.  Published by Pocket Books, 2005, pp. 240.  Originally published in 2004.
N.B. This is an old review written in 2010 and posted on Goodreads and LibraryThing before I started keeping track of all the books I read here at Old English Rose Reads.  I've decided to keep copies here so that this remains a complete record of my reading since I started reviewing books for my own pleasure.
Write a comment