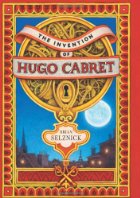 Title: The Invention of Hugo Cabret
Author: Brian Selznick
Published: Scholastic, 2007, pp. 533
Genre: Young adult historical fiction
Blurb: Orphan, clock keeper, and thief, Hugo lives in the walls of a busy Paris train station, where his survival depends on secrets and anonymity.  But when his world suddenly interlocks — like the gears of the clocks he keeps — with an eccentric, bookish girl and a bitter old man who runs a toy booth in the train station, Hugo's undercover life and his most precious secrets are put in jeopardy.  A cryptic drawing, a treasured notebook, a stolen key, a mechanical man, and a hidden message from Hugo's dead father form the backbone of this intricate, tender and spellbinding mystery.
When, where and why: I was given this book recently as a preset (thank you, Dave and Annie).  I decided to read it now because both of my main reads are quite long and involved and I wanted the satisfaction of finishing something.  This book seemed just the thing for a quiet read before bed.
What I thought: This book is unique among my reading this year in that the story is told through words and pictures.  By that, I don't mean that the book has illustrations which accompany the text, but that it has pages and pages of beautiful drawings which tell the story without the need for words at all.  I know next to nothing about art, but these are undoubtedly excellent illustrations.  They not only further the story in an interesting and engaging way, but they are also full of emotion.  How Brian Selznick manages to convey so much with just a pencil is completely beyond me.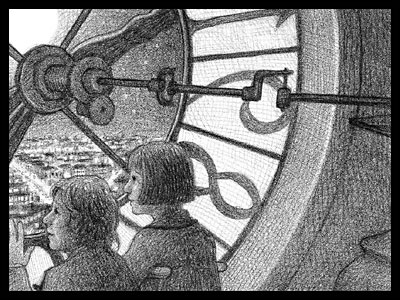 The story itself is basic, yet charming and endearing.  The writing style is pared down and simple, but I found that this highlights the intricate pictures by the contrast between the two, and while the text is necessary to convey dialogue and other aspects which cannot be portrayed in drawings, it is the illustrations which are undoubtedly the star of this lovely book.  I highly recommend this to anyone looking to spend an hour with a quick, enjoyable read that is guaranteed to make you smile.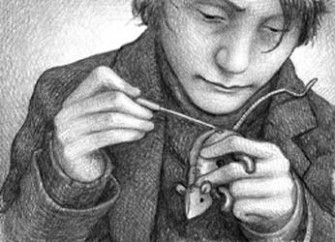 Where this book goes: This book is staying with me, definitely.  It's one that would be easy to pick up again when I want something relaxing to read.
Tea talk: This book was so short that I didn't have time for tea while I read it.  I put the kettle on to boil, started reading, and by the time I remembered the tea I had finished the book.  I have learned my lesson and in future will sort out my brew before settling down with a book which looks as though it might absorb all my attention.
2 Responses to "Review: 'The Invention of Hugo Cabret' by Brian Selznick"
Write a comment