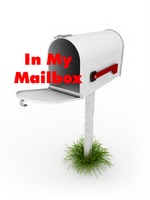 "In my mailbox" is a weekly meme hosted by The Story Siren in which people share the books that they have acquired that week.
Once again, this is a fortnightly edition for me, thanks to a very busy weekend last week.  I have a feeling this is not going to be good news for the TBR pile, particularly as the cold weather has evidently triggered my winter hibernation mode, making me keep falling asleep on the train to and from work and hence nearly eliminating my reading time.  To add to that, my two current reads are both quite chunky and so my paltry reading efforts aren't translating into removing books from the pile at the moment.
Hopefully in the coming week I'll be able to make better progress.  Keep your fingers crossed for me.
From BookMooch:
Offbeat Bride: Taffeta-Free Alternatives for Independent Brides by Ariel Meadow Stallings – I love the Offbeat Bride website and was thrilled when I discovered there was a book too.  Looking forward to reading this one.
Mirror Mirror by Gregory Maguire – This retelling of the Snow White story was included by a very kind moocher with another book as a lovely surprise.
The Innocent Mage, The Awakened Mage and Empress all by Karen Miller – I had to pick up all three of these when I saw them in someone's inventory.  I'm always on the look out for new fantasy writing and I've only heard good things about this writer.
Her People: Memories of an Edwardian Childhood by Kathleen Dayus – Another interesting looking Virago Modern Classic to add to my little collection.
The Great Stink by Clare Clark – I'm leaning towards Victorian novels at the moment, and this one was recommended to me as a good story about that era.
Jitterbug Perfume by Tom Robbins – A story about mythology and perfume owned by a janitor which is actually the essence of the universe.  How could I resist a book which sounds quite this bizarre?
Gifts:
The Angel's Game by Carlos Ruiz Zafon – The Shadow of the Wind was one of my favourite books of this year, and my fellow long-suffering work friend passed this one on to me once she was finished with it.  I hope it's as good as the first book.
Books for review:
False Friends, Faux Amis by Ellie Malet Spradbury – I always enjoy books about eccentricities of language, so I have high hopes for this one.
Books bought brand new (yes, I actually purchased a new book from a real shop):
Les Miserables by Victor Hugo, translated by Julie Rose – When I found this is the tempting remainders bookshop opposite the British Library it seemed like fate.  Not only was it the only copy and a brand new hardback of the latest translation for only £2, I stumbled across it the day after going to see the fantastic 25th anniversary concert of the stage show of Les Mis at the O2.  I had to buy it.
So, in summary:
Books off the TBR pile this fortnight – 2 (oh, the shame)
Books on the TBR pile this fortnight – 11
Change – +9
TBR pile stands at – 523 books
4 Responses to "In my mailbox"
Write a comment