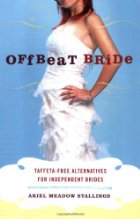 Title: Offbeat Bride – Taffeta-Free Alternatives for Independent Brides
Author: Ariel Meadow Stallings
Published: Seal Press, 2006, pp. 219
Genre: Wedding planning
Blurb: Unenthused by a white wedding gown and bored by the hoopla of the Hollywood-style reception, Ariel Meadow Stallings found herself absolutely exhausted with the nuances of traditional nuptials. So, she chose to take a walk off the beaten aisle and embrace the non-traditional bride within. Through trial and error, Ariel and her fiancé managed to crank out a budget wedding with all-night dancing, guests toasting champagne in mismatched mugs, gorgeous gardens, no monogrammed napkins, no garter, no bridesmaids, and lots of lesbians. Shortly after her 2004 matrimony, Ariel began searching for other brides whose ceremonies defied age-old tradition and reflected who they are. From there, she developed the idea for a guide for the offbeat couple. (Goodreads summary)
When, where and why: I've enjoyed looking at Offbeat Bride for ages (quite probably long before I got engaged) and so I was really pleased to discover that there was a book too when I was browsing LibraryThing for wedding related titles which sounded readable.  I managed to get hold of this from BookMooch and started reading it almost right away.
What I thought: This book is just the sort of wedding book that I was looking for: it's entertaining, insightful, useful and above all it doesn't take itself too seriously.  It's a great blend of anecdotes from Ariel and other similarly non traditional brides about their wedding days and the planning leading up to it and advice to brides who are in the process of arranging their own weddings.  As just such a bride, I found the book relatable and the hints and tips invaluable.  Unlike other wedding books and magazines that I've encountered, the advice in Offbeat Bride doesn't concern how to fold your own napkins and the most politically correct way to seat people at the reception, but things like how to say "thanks, but no thanks" and how to avoid being talked into decisions because "it's tradition".  True, none of these things is particularly new or startling, but Ariel's voice as she writes is so matter-of-fact and irreverent about the whole process that it's like receiving a welcome, reassuring chat from a friend that everything will be ok, just stop fussing about the little things.  At the same time, she never loses sight of the fact that getting married is (gasp) important to people and that most people will go a tiny bit crazy over something completely irrational at some point during the planning phases.  This book presents a very balanced view, which is a welcome change from a lot of the wedding literature out there.
It's worth noting that the Old English Thorn and I are having probably the most traditional wedding imagineable, complete with Catholic church, hall and buffet reception, taking his surname and living together for the first time after the marriage.  However, don't let the title fool you; this book is an ideal read for any bride (or groom for that matter), whether planning a beach wedding with everyone in costume as pirates or a traditional ceremony in a white meringue of a dress.  Dilemmas like people disapproving, being offended by the guest list, or just wanting to help a little bit too much are certainly not unique to brides who favour black dresses and purple hair.  A wedding, it seems, is something on which everyone has an opinion, regardless of how unwelcome that may be.  Offbeat Bride recognises that and offers some great ways to either accept or ignore it.  It provides some much-needed perspective and entertainment at a time when it's very easy to take things too seriously.
Where this book stays: I think I'm going to circulate this one to my mother and husband-to-be as I there's stuff in it which will be useful for them too.  After the wedding circus is over (roll on September) it will be off to BookMooch again to find a new home with someone else.
Tea talk: I'm afraid I've been on the coffee again while reading this book.  I read it while I was at home in the evenings and so whenever the kettle went on (frequently in a house with no central heating) I was presented with a ready made cup of coffee by someone.  As tea would have required getting up, coffee it was.
Write a comment