Although I don't like to feel restricted in what I read, I do like to set myself some goals at the beginning of the year.  This year they're designed to guide my reading, while giving me the maximum flexibility to read exactly what I feel like reading.
The TBR Lucky Dip – You might have noticed a new tab which has appeared at the top of the blog entitled 'Mount TBR'.  This is, as the name suggests, a list of all the books that I own but have not yet read.  It is shameful, I know.  Each month, I'm going to be using a random number generator to select me a book from my list to read to try to help me read some of the titles I may have forgotten about.
There are a few rules to make things as simple as possible:
If the chosen book is a later book in a series and I haven't yet read the preceding book, I instead read the first unread book in that series.  If I don't own the next one that I need to read, I am allowed to purchase it.
If the chosen book is one that I don't want to read at that moment in time or is an impractical choice (for example, I'm looking for a book to read on the train to work and the generator selects Infinite Jest) I am allowed a second pick.  There's no sense in making reading a chore rather than a pleasure.
If anyone would like to join me in this monthly venture, please leave a comment and I'll see what I can set up.  It would be great to have other people reading odd things from their TBR piles together with me.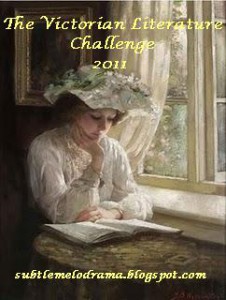 The Victorian Literature Challenge – I've already posted about this challenge here and I'm really looking forward to getting stuck in now the calendar has turned over to 2011.  My plan is to read one book a month, but we'll see how it goes.  It seems like an excellent way to make myself get around to reading all those dusty classics above my bed.
My plan is mainly to read novels, but I also have some Victorian poetry and travel writing if I find myself experiencing novel fatigue.  I'm particularly eager to introduce myself to Anthony Trollope, who seems to be beloved by bloggers and whom I've been assured I will love.
The Women of Fantasy Book Club – I've never joined a book club before, but when I saw this one hosted by Erika from Jawas Read, Too! I couldn't resist.  I know I have to read a list of set books, not pick and choose what I like, but these are all books that I wanted to read anyway.  January's pick is The Hundred Thousand Kingdoms by N. K. Jemisin and the thought that my copy might have arrived at the office from Amazon is making the thought of having to go back to work tomorrow marginally more bearable.

Read more poetry – Reading Christmas Please! throughout December made me remember how much I enjoy poetry.  Although I know this in my head, when I go to the shelves to pick up a book to read I rarely if ever select a poetry book and this year I'm going to make an effort to change that.  Every month I'm going to choose one book of poems and divide it up so that I have a few poems to read each night before bed.  Having bitesize portions of poetry makes it more accessible and should encourage me to read and enjoy more of my poetry books.
Mostly, I just want to enjoy my reading this year as I know it's going to be quite a busy and possibly stressful time.  I can't wait to see what 2011 will bring.
8 Responses to "2011 Reading Resolutions"
Write a comment