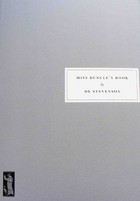 Although I buy the majority of my books second hand, whether from charity shops,  Ebay or Amazon Marketplace, occasionally I will allow myself to purchase a new book or two if they are particularly special.  When I discovered sometime in early January that I had to go to Charing Cross for a meeting, meaning that my walk there would take me right past Lamb's Conduit Street (well, it involved a slight diversion but it was close enough for me) I couldn't resist paying a visit to the Persephone bookshop that I had read so much about.  It was exactly as I had imagined: cosy and inviting with soft lighting, neat stacks of books on every available surface and a comfortingly familiar sort of organised chaos in the office area beyond.  Of course, once there it seemed rude not to buy anything and so I came away with Miss Buncle's Book by D. E. Stevenson, They Were Sisters by Dorothy Whipple, beloved of many a book blogger, and the Persephone 2011 diary (which thankfully doesn't add to my teetering TBR pile.  Still feeling in a Persephone mood after the success of The Victorian Chaise-Longue the day before, I picked up Miss Buncle's Book, a novel which couldn't be more different but was equally enjoyable for entirely opposite reasons.
Barbara Buncle is a middle aged spinster who has been forced by reduced circumstances to seek additional income and so has written a novel based on the village in which she lives under a pseudonym in the hope of making some money.  To her delight her book is published and becomes wildly popular, putting an end to her financial problems.  However, the residents of Miss Buncle's village are less thrilled when they discover that they all feature in the book and many of them are less than flattered.  If only they can find the author, the mysterious John Smith, then there is certain to be trouble.

If The Victorian Chaise-Longue wasn't quite what I expected, Miss Buncle's Book was everything I had hoped for and more.  It is a charming tale of village life which becomes less and less typical as the plot advances, culminating in events which are utterly outlandish, incredibly far-fetched and delightfully entertaining.  It is light and fluffy but prevented from being vacuous by the sharp intelligence which lies behind the keen observations of people and their ways which make this book so enjoyable.
Primarily, Miss Buncle's Book is a novel of character, giving D. E. Stevenson the opportunity to draw portraits of a variety of different people from the doctor to the indomitable Mrs Featherstone Hogg.  She is able to convey a great deal of information about her characters without saying things directly, such as in the beginning of the chapter entitled 'Mrs Carter's Tea-Party':
Barbara knew when she saw the china that Mrs Featherstone Hogg was expected, and her spirits fell a degree for she did not like Mrs Featherstone Hogg.  Barbara had met Dorothea Bold on the doorstep and they had gone in together, and Miss King and Miss Pretty were there already.  But not for these would Mrs Carter have produced her best eggshell cups and saucers, that filmy drawn-thread-work tea-cloth, those lusciously bulging cream buns. (p. 61)
I love the way that Stevenson has focused on the little details like this, making them seem large and important and so drawing the reader into the rather petty and insular world of Silverstream with its little intrigues and high dramas, which is nonetheless a very enjoyable place to be.  Persephone have already published the sequel to this book, Miss Buncle Married, and I really hope that they plan to continue republishing the series as I definitely want to spent more time in the company of Barbara Buncle.
Miss Buncle's Book by D. E. Stevenson.  Published by Persephone, 2010, pp. 332.  Originally published in 1934.
8 Responses to "'Miss Buncle's Book' by D. E. Stevenson"
Write a comment