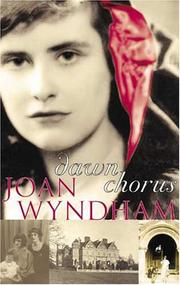 Reading Perfume from Provence reminded me that reading non-fiction is nowhere near as hard or as serious as I think it's going to be when it comes in the form of an engaging memoir.  I decided to carry on the theme by reading another thoroughly English memoir which I picked up, this time one of upper class childhood, Dawn Chorus by Joan Wyndham.  It starts with the incredibly tantalising paragraph :
The first three years of my childhood were spent in a vast Victorian country house in Wiltshire called Clouds.  Built entirely of green sandstone, it boasted forty bedrooms, and a kitchen so far from the dining room that a miniature railway track had to be built to carry food from one place to the other.  Luckily, tepid meals were the norm in those days.
How could I possibly resist such an opening?
In Dawn Chorus Joan Wyndham tells the story of her family, beginning with her great-grandfather, Percy, who built Clouds to be his family home and continuing on through the generations down to her own memories of her childhood and teenage years.  Her life begins in 1921 at the second incarnation of Clouds, the first having burned down before she was born, then is transported to London after her parents separate, where her mother's friends, a group known as 'the Souls' simultaneously entertain and embarrass her with their eccentric antics.  Joan attends a convent school and has a somewhat tempestuous relationship both with religion and the nuns responsible for her education, until she goes to the theatre and sees John Gielgud as Hamlet, whereupon she decides to audition for RADA.
This is a wonderful memoir, not only because the subject matter than it chronicles is so interesting, but also because the evidence on which Joan Wyndham draws is so miraculously complete.  Her relatives seem to have been meticulous record keepers, and so her accounts of their history is littered with diary entries and excerpts from letters which lend a great immediacy to the writing.  Her own letters and diaries are written with remarkable candour and shared with an openness and lack of embarrassment which makes Dawn Chorus a delight to read.  Even though I do not doubt that the selections used have been carefully chosen, Wyndham seems quite happy to display her younger self both at her best and at her worst.  I cannot think of many writers who would share their awkward teenage diaries, rife with overblown emotions and incidents rather forgotten, so willingly with the reading public.
Whatever subject she is talking about, Joan's diary entries are warm and filled with emotion so that she really leaps off the page and comes to life.  They are often highly amusing, although sometimes not intentionally so, imbued as they are with the seriousness of youth.  At one point, she goes to stay with a family in Paris:
Friday For three days now there has been no paper in the Tante Fannee.  I've had to use all the tissue paper from my trunk.  Luckily, I have been asked to dinner by my Romanian relatives in Paris.  They are very grand and rich so I will probably be able to pinch a few rolls of paper to take home with me.
On another occasion, Joan goes on holiday to Wales:
I have become the complete 'hearty' down here, striding out in the dew before breakfast in corduroy trousers with a stick, a whistle and two dogs, and then down to the farm to feed the cows and see the newborn calf.  Then back for a breakfast of kidneys, bacon and pickled herring, followed by a few rounds of clock golf, finally taking the rowing-boat out for a cruise around the outlying islands, with binoculars slung round my neck, and no makeup.  Horrible metamorphosis!

On a more genteel note, we also sold produce at the Vicar's bazaar, raffled teasets at the Conservative fete and made conversation over tomato sandwiches at various county tea parties.  I've also been climbing the mountains around Snowdon.  So bleak that nothing grows on them but the sparsest grass, with thin streams running down into the hidden lakes, and sheep lying curled in the rock crevices.  One of the lakes is supposed to be bottomless but I fell into it, so I can positively state that it isn't; it's shadowed by red-berried mountain ash.  Mountains almost reconcile one to Wordsworth.

There is a similar brutal and entertaining honesty in the extracts from her family's writing that she includes.  Take, for example, her mother's record of Joan's early development in her Baby's Progress Book:
Joan is never still for one moment and exhausts all who look after her.  When finally tired out, she sits and twiddles her hair without ceasing.

Hearing Hears more than is good for her.

Smell Good, but has a habit of snorting.

Sight Slight squint.

Taste Greedy
Later on there is no doubt at all of the genuine affection between Joan and her mother, as evidenced by their numerous letters to one another, but her mother's evident frustration with her young baby and the ruthless way in which she records it is highly entertaining.
This book can become a bit confusing at times, as Joan tends to refer to people by their first names rather than their relationship to her, so it can become easy to lose track of who is who and in which generation.  Nevertheless, this is a fine memoir of life in England for the upper classes between the Wars, and definitely one that should be more widely known (according to LibraryThing only two other people own a copy of this book, so the vast majority are missing out).  Joan Wyndham continued to chronicle her life in several other books, and I enjoyed her style so much that I'm sure it won't be long before they find their way onto my shelves.
Dawn Chorus by Joan Wyndham.  Published by Virago, 2004, pp. 233.  Originally published in 2004.
One Response to "Review: 'Dawn Chorus' by Joan Wyndham"
Write a comment