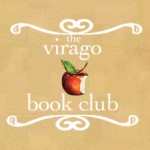 Last Thursday evening saw the second gathering of the Virago Book Club to discuss the second book selection, Winifred Holtby's masterpiece South Riding.  I instantly fell in love with the book when I read it back in January so I was looking forward to an evening of discussion with a group of people who all, it transpired (and not exactly unexpectedly), felt the same way about it.  Perhaps it was because it was a smaller gathering than the previous event with Linda Grant and obviously there was no author there to give a talk, or perhaps it was because we're all a bit more familiar with each other having met before, but there was lots of friendly chatter, lively discussion and enthusiastic praise of South Riding as well as of Winifred Holtby herself.  Combine that with a delicious chocolate cake and some wine and a lovely evening was had by all.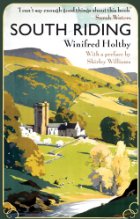 The evening began with a discussion about the two editions of the book currently available: the lovely new Virago edition, the cover of which is from an old Yorkshire railway poster, and the television tie-in edition which is published by another company.  We were all rather surprised to learn that the BBC edition wasn't from Virago, but apparently since Winifred Holtby has been dead for more than seventy years, South Riding is now in the public domain and can therefore be published by anyone.  However, Vera Brittain's estate gave Virago permission to use an afterward that she wrote which hasn't been published since the 1930′s (if my memory serves me correctly) and their version also features an introduction by Shirley Williams, Vera Brittain's daughter, so it's worth choosing this edition for the extra material alone, not to mention the vastly superior cover.  We all agreed that we prefer not to buy television tie-in editions with actors on the cover as we prefer to imagine the characters ourselves rather than to have a preconceived idea of what they look like before we begin to read.
Interestingly (and unusually) I seemed to be the only person there who had watched the recent BBC adaptation of South Riding.  I had enjoyed it for what it was, but it wasn't a patch on the book because it had to take a much more narrow focus than the novel, essentially turning it into a love story with a bit of social reform thrown in.  I think that this is partly because of the time constraints of adapting such a wide-reaching novel into three hour long segments and partly because I just don't think it would have worked on the screen.  As we discussed, one of the most impressive things about this book is that Winifred Holtby takes so many different characters from a huge range of backgrounds and professions and makes them all individuals that the reader knows personally and who have fascinating stories to tell.  To have so many characters in a television programme would just have been confusing, rather than providing the amazing cross-section of society that it does in the book.
We chatted a bit about how we had all come to read the book; some people had read it when they were younger and then read it again for the Book Club, but the majority of us had only discovered it because of the Book Club and so were suitably grateful!  People tried to come up with a book that we would say that South Riding is most like in order to describe it to other people who haven't yet heard of it.  Middlemarch of course was mentioned (making me all the more eager to get round to reading it myself) and also the Rabbit books by John Updike which I've not investigated before.  I wish I'd noted them down at the time, because anything that purports to be like South Riding (and indeed, anything recommended by the lovely people at the meeting) has to be worth reading.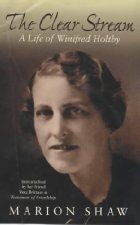 We also discussed Winifred Holtby's relationships with the two incredibly strong and influential women in her life: her mother and Vera Brittain.  We were read some extracts from a biography of Winifred Holtby called The Clear Stream by Marion Shaw which sounds fascinating and is now lurking in my Amazon shopping basket waiting for me to feel justified in buying books again to click and purchase, as it's apparently no longer in print and is quite pricey second hand.  Both were clearly women that Winifred respected, almost to the point of denying her own talents in deference to theirs; there was a particularly interesting exceprt from a letter than Winifred wrote to Vera saying that the fact that Winifred had been asked to write a biography of Virginia Woolf was obviously a reflection on her friendship with Vera rather than on her own personal merits as an author and journalist.  It's no wonder that she was like this given her mother, who seems to have been a formidable character who liked to be in control of her daughter.  We're all very thankful that Winifred Holtby ignored her mother's displeasure to write South Riding and that Vera Brittain ensured that it was published.
I left having had a wonderful evening, clutching a copy of the new Virago reissue of Anderby Wold, Winifred Holtby's first novel.  I started it on the train home and have now devoured it completely, so thank you to Virago for organising another lovely event and for introducing me to such a great author.
3 Responses to "Virago Book Club Event: Winifred Holtby"
Write a comment