February may be a day longer this year, but it seems to have flown by.  I've only had time for two reviews, which puts me perilously behind again, but I'm no longer allowing myself to worry about such things.  I'm also still woefully behind on Moby Dick, which has hardly seen any progress at all since this time last month.  I will conquer the great white whale in March though, I've promised myself.
Books read in February
This month I have read 17 books, totalling 4,195 pages, giving an average page number of 247.  The low average page count is because of reading lots of tiny penguins in the Great Loves box set, interspersed with young adult and children's books which weren't exactly hefty either.  Once I finish Moby Dick I'll be starting to read larger books again, as I've discovered I don't like having two giant books on the go at once (hence Middlemarch has been set aside for another day and I've parted company with the readalong).  The books I read were:
Doomed Love by Virgil (3)
Forbidden Fruit: The Letters of Abelard and Heloise by Peter Abelard and Heloise (2)
The Hunger Games by Suzanne Collins (4)
The Eaten Heart: Unlikely Tales of Love by Giovanni Boccaccio (3.5)
Of Mistresses, Tigresses and Other Conquests by Giacomo Casanova (2.5)
Cures for Love by Stendhal (1)
The Graveyard Book by Neil Gaiman (4)
Charmed Life by Diana Wynne Jones (4)
Catching Fire by Suzanne Collins (3)
The Seducer's Diary by Søren Kierkegaard (2)
First Love by Ivan Turgenev (2.5)
Lucy, or, The Delaware Dialogues by Babette Rosmond (4)
Diary of a Provincial Lady by E. M. Delafield (3)
Mockingjay by Suzanne Collins (2)
Endymion Spring by Matthew Skelton (3)
The Knife of Never Letting Go by Patrick Ness (4.5)
A Mere Interlude by Thomas Hardy (2.5)
Of the Penguin Great Loves set that I intended to read in February, I got through eight of the twenty.  Sadly, although they're a very attractive collection of books, I discovered that I wasn't overly keen on any of the stories inside them and those I did like I already have in other versions.  One of them was even my first one star book of the year.  My attempts to avoid reading them are what caused the explosion of young adult fantasy books onto my reading list.  They may not be the most sophisticated of titles, but my goodness they're fun to read.
Books acquired in February
Well, I may as well throw out my resolution about aiming for book neutrality right now, as February once more saw an abundance of books come into the house.  Here they all are (minus three which are on loan or being read) lined up on our mantelpiece (yes, we have daleks on our mantelpiece; why do you ask?).  Some of them have already been read, if that makes it any better…

The small stack of books on the left are ones I'm very lucky to have.  Early in February I was contacted by the lovely Maureen Emerson to ask if I would like to review her book about Lady Winifred Fortescue and her friends in Provence.  I adored Lady Winifred's Perfume from Provence when I read it last year, so I jumped at the chance and was thrilled to receive a copy in the post soon after.  February was a bit fraught with reading commitments, so I decided to save it for March and it will be coming off the shelf soon. 
All the books on top of that are review copies provided by the ever so friendly people at Quercus Books (of Girl with the Dragon Tattoo publishing fame) at their Digital Shindig in February.  I was thrilled to be invited along to the rather fancy bar Mason & Taylor in east London (where they serve Kraken rum; always a good sign!) to meet the team and some of their authors, along with a whole host of other bloggers and reviewers.  It was an excellent evening, one of the best parts of which was being presented with a huge bag of goodies to take home, including bookmarks, chocolate and, of course, books.  I was given copies of (bottom to top) The Cook by Wayne Macauley, Girlchild by Tupelo Hassman, Bereft by Chris Womersley, The Last Man Standing by David Longo, Breathless by Anne Sward and The Folded Earth by Anuradha Roy.  A lot of them aren't out yet, so I'm going to enjoy the slightly guilty frisson of getting to read something before I should do and write reviews to be posted nearer to their publication dates.  How exciting!
Next to my review stack is an intriguing little box set of books on language.  My interest in words, phrases, idioms and their origins was reawakened earlier this year by reading The Etymologicon by Mark Forsyth, and this set from The Book People, along with the rather more substantial and imposing Chambers Dictionary of Etymology (acquired for pittance as a Folio Society daily deal) next to the blue dalek, caters perfectly to my refreshed obsession.  I've lost count of how many things I've looked up in the dictionary already, and the little Flavell books are so interesting I could easily read them cover to cover.
You might not think it from looking at this picture, but I've actually exercised some restraint this month with book buying.  Whenever I go to the ballet after work (which is quite a lot thanks to their £5 tickets) I have to walk along Charing Cross Road on my way to the Royal Opera House.  On one of the occasions when I went past in February, Any Amount of Books had all the stock in their basement reduced to £1 and somehow I only walked out with one (although I did acquire Memoirs of a Highland Lady from there earlier in the month)!  This was The Love of Seven Dolls by Paul Gallico.  I've not heard of this particular title before, but I really enjoyed The Small Miracle and Flowers for Mrs Harris by the same author when I read them last year, so I'm more than willing to give this one a go.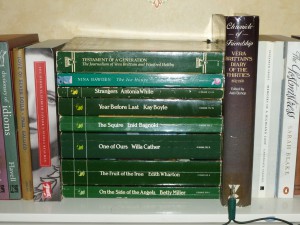 The Persephone snuggled up next to Paul Gallico is Nichola Beauman's The Other Elizabeth Taylor, which I bought from Amazon Marketplace as an accompaniment to the Taylor centenary readalong of her novels which I'm taking part in on LibraryThing.  Missing from the Virago pile next to that is, in fact, one of Taylor's novels, Palladian, which was the February read (I had already swiped it for reading purposes by the time I took this photograph).  There are a whole host of other Virago Modern Classics there which have been accumulated from various charity shops and second hand book shops, as I'm unable to walk past a green spine for a few pounds.  This month saw me acquire On the Side of the Angels by Betty Miller, The Fruit of the Tree by Edith Wharton (unexpectedly large compared to her other books I own), One of Ours by Willa Cather (also unexpectedly large), The Squire by Enid Bagnold, The Year Before Last by Kay Boyle, Strangers by Antonia White and The Ice House by Nina Bawden.  I also struck gold on the Winifred Holtby and Vera Brittain front, picking up copies of A Testament of Friendship and Friendship: Vera Brittain's Dairies of the Thirties for just £1 each.  They've reminded me that I really must let myself read another Holtby soon.
 The Postmistress by Sarah Blake was a book that I didn't intend to buy.  The Old English Thorn and I have been expanding our collection of board games, and I spotted one we didn't have in a charity shop the other weekend.  As we both spend most of our waking hours in London, it's rare for us to ever carry cash and so we found ourselves at the till with a £3.75 game and a £5 minimum spend to pay by card.  So I was forced to buy a book as well.  It's a hard life.
 The Folio Society books on the far end are partially the result of end of sale stock being discounted even further to a level at which I am unable to resist (not that I put up much of a fight) and one second hand acquisition.  Unusually for me, both of the new books, The Physiology of Taste and The Gentleman's Daughter by Amanda Vickery, are non-fiction.  Hopefully having such attractive copies to read will encourage me to be better at reading factual books.  North and South by Elizabeth Gaskell is a copy that I bought from ebay to add to my growing collection of Gaskell books as she promises to become a favourite author.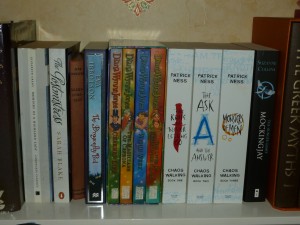 Last but not least, all the remaining books were part of my (re)discovery of young adult and children's fiction.  Daddy Long Legs by Jean Webster is considered a classic by many but isn't a book I've ever read so I look forward to this one.  Eva Ibbotsen was a favourite author when I was younger, but this title isn't one I've ever read.  It's beautifully designed though.  The Crestomanci books by Diana Wynne Jones were definitely ones I read.  However, I only remember the first book in the series so I need to rectify that by reading them all again.  The Patrick Ness books were recommended to me when I bought The Hunger Games and, serendipitously, The Book People had the whole set for sale for £6.99.  I've already read book one and thoroughly enjoyed it, so I'll be diving into the rest in March.  Although the first two Hunger Games books aren't pictured here as they're already on loan to a friend, I bought and read through the whole trilogy in February, which is what sparked my interest in young adult books.  Although I thought they decreased in quality (and integrity) as the books progressed, on the whole I enjoyed them and I'm grateful that they've led me onto other books that I may not otherwise have discovered.
Book Neutrality Report
Books read: 17
Books acquired: 43 (At least it's fewer than January)
Book neutrality for February: +30
Overall book neutrality: +68
Plans for March
Reading The Hunger Games, The Knife of Never Letting Go and Charmed Life has reminded me of how much I enjoy reading books with a good plot.  I love engaging characters and beautiful writing, but I also like a good plot.  This has filled me with the urge to read more fantasy books, the most plotty of the books I read, as it's been a fair while since I last attacked one (with the exception of a few Terry Pratchetts, and he's a genre all by himself).  I'm behind on the Elizabeth Taylor read along and have Palladian still to read in addition to March's book, A View of the Harbour, so I want to get caught up there.  I also want to read Maureen Emerson's book and at least one from Quercus.  Other than that, I'm going to continue to read what I fancy, when I fancy.
Write a comment