While it may not have been the best month in any regular sense, January has been an excellent month on the reading front.  I've discovered several new authors that I really like and reaffirmed some old favourites.  I've realised I don't like Moby Dick, but I'm now more than three quarters of the way through it and the end is in sight for the beginning of February.  Already it feels like an achievement of leviathan like proportions (as Melville would undoubtedly say) and if nothing else it has reaffirmed my belief that there's a huge difference between not liking a book and thinking that it isn't any good.  On the blog front I've decided to eliminate the review guilt and consequently feel much better about starting 2012.
Books read in January
This month I have read 13 books, totalling 3,703 pages, giving an average page number of 285.  I've been reading shorter than average books in an attempt to counterbalance the leviathan (there's that word again; Ishmael would be proud) waiting for me on the bedside table, but it's been a good decision as it's prevented me from feeling too bogged down in ongoing books.  I did pick up Barchester Towers mid way through the month, but put it back after about twenty pages as I realised that it was the wrong book for now.  I'm looking forward to coming back to it in February.  The books I read were:
Wildwood Dancing by Juliet Marillier (3)
The Country of the Pointed Firs by Sarah Orne Jewett (2.5)
Rivers of London by Ben Aaronovitch (4.5)
The Etymologicon: A Circular Stroll Through the Hidden Connections of the English Language by Mark Forsyth (5)
At Mrs Lippincote's by Elizabeth Taylor (3)
The Memoirs of Sherlock Holmes by Sir Arthur Conan Doyle (3.5)
Corduroy by Adrian Bell (3)
Equal Rites by Terry Pratchett* (5)
The Phoenix and the Carpet by E. Nesbitt (4)
Tamara Drewe by Posy Simmonds (4.5)
Our Spoons Came from Woolworths by Barbara Comyns (3)
The Other Queen by Philippa Gregory (2)
Dancing Girls by Margaret Atwood (3)
Two five star books and two four and a halfs indicates a very good month in my book (no pun intended).  Nearly all of the other books that I've read have been four or three star reads too, so even the less stellar books have still been good, satisfying reads.  Long may it continue!
Books acquired in January
At the beginning of 2012 I stated that one of my aims for this year is to end it book neutral, and from that point of view the year is off to a terrible start!  And you know what?  I don't care.  Buying and owning books makes me happy.  I love unearthing hidden treasures in charity shops, receiving parcels of well-loved volumes from other readers on BookMooch, unwrapping pristine new Folio Society volumes in all their gorgeous glory and spotting a deal on a long sought-after book that I just can't pass up.  As long as it still makes me happy and I have the disposable income to do so, I will continue to buy books.  That said, this has been an unusually excessive month in terms of book acquisition, largely due to dangerous January sales from The Book People and the Folio Society supplementing my usual charity and second hand shop finds.  So I'm going to revel in them, enjoy cataloguing and shelving them and resolve to be more circumspect next month.  I'm certainly not going to feel guilty about it.
 From new bookshops I bought four books.  Jamrach's Menagerie by Carol Birch and Rivers of London by Ben Aaronovitch were both acquired at Edinburgh Airport in a flurry of panic when we found out that our plane home had miraculously become a coach, meaning I would need much more to read to pass the time than I had anticipated.  Of course, I promptly fell asleep on the bus so neither were read, but at least I was covered for all eventualities.  The Twelve Poems of Christmas by Candlestick Press was bought for 99p in the Waterstones sale, and The Last Werewolf by Glen Duncan came along with it because I had no change and felt bad putting through a card transaction for less than £1.
From charity shops I have acquired three books.  I was delighted to find a pristine copy of The Flavour Thesaurus for a mere £2, as it is both useful and witty.  So much so that I think I'm going to have to read it cover to cover.  The other two I picked up are for the Virago Modern Classics Collection: Our Spoons Came from Woolworths by Barbara Comyns and The Winged Horse by Pamela Frankau. 
I acquired a second Barbara Comyns title, Who Was Changed and Who Was Dead, in one of my favourite second hand book shops on Charing Cross Road.  At the same time, I pounced on a copy of The Clear Stream by Marion Shaw, a biography of Winifred Holtby which I've been wanting to read ever since we discussed it at the Virago Book Group.  The Cambridge Guide to Women's Writing in English edited by Lorna Sage also wandered into my possession to provide brief backgrounds for all the other interesting female writers that I'm discovering through Virago.
Another VMC came to me by way of Amazon Marketplace when I bought At Mrs Lippincote's by Elizabeth Taylor for the VMC LibraryThing group read.  Blue Remembered Hills, a memoir by Rosemary Sutcliffe in a beautiful Slightly Foxed edition also found its way to my gleeful hands from there.  Slightly Foxed editions are each limited to 2000 copies and this one was out of print long before I discovered them, so when I saw a copy available in my price range I couldn't resist.
Not much from my wishlist has come up on BookMooch recently, but I did manage to mooch two books that I've been after for ages.  Prince of Dogs adds to my collection of Kate Elliott's Crown of Stars series, which I'm going to start sometime this year.  From the same user I also mooched a hardback copy of Tamara Drewe by Posy Simmonds, a graphic novel based on Far from the Madding Crowd.  I read it instantly and liked it so much that the next day I ordered a copy of Pick of Posy, some of her older work, from Ebay.
Ebay also provided four new additions to my Folio Society collection (someday I'm going to have to take a picture of the bookcase that houses them; it is a glorious sight).   I bought North and South by Elizabeth Gaskell as I loved Cranford so much and want to read more of her, then from the same seller I also acquired The Consolation of Philosophy by Boethius (I wrote my MA dissertation on this and an Anglo-Norman translation of it, so it holds a special place in my heart), Diary of a Provincial Lady by E. M. Delafield because I've heard so much good about it, and Folk Tales of Great Britian by Kevin Crossley-Holland.
Without doubt my biggest book purchase in terms of numbers came from The Book People's January sale.  Many of their books come in sets with others, and often they're such good value that it's cheaper to buy a whole set (even if it contains books I don't particularly want) than it is to buy the individual books that I do want on Amazon.  I bought their Antonia Fraser set of histories which comprises ten books for £3!  Then there was the set of Maya Angelou books that I'd been eyeing up elsewhere but which were £4 for all six.  Other sale bargains were Foundation by Peter Ackroyd, the amusing sounding Household Tips of the Great Writers by Mark Crick, Ripping Things to Do by Jane Brocket and Foyle's Further Philavery by Christopher Foyle.
The biggest purchase in terms of finances was, hands down, my Folio Society sale order.  But, if books from the Book People are great because they're cheap, books from Folio are great because they are gorgeous.  They may not look like much in their slipcases, but take them out and they are things of beauty that beg to be read and appreciated or just stroked occasionally.  All of these were discounted by at least 50%, so I was powerless to refuse.
Book neutrality report
Books read: 13
Books acquired: 48 (I swear it didn't feel like that many at the time!)
Book neutrality: +35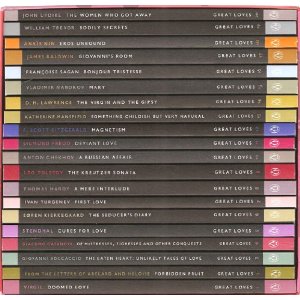 Plans for February
Usually I'm not one for planning ahead as I find great joy in spontaneity when it comes to reading.  However, I feel that I owe it to Barchester Towers to give it the chance it deserves when I'm not already weighted down with too many other Victorian tomes.
Additionally, I've decied that in February I'm going to read my way through the Penguin Great Loves box set that I succumbed to from The Book People in October last year.  As you might have noticed from my incoming books, I'm unable to resist their ridiculous deals, and this lovely set for £8.99 was just too much for my (admittedly limited) willpower.  As it's impossible to walk into a shop at the moment without being assaulted by a profusion of red and pink hearts, novelty chocolates, cuddly toys and cards of varying degrees of taste, I thought that February with its celebration of flowers and chocolates ahem, love would be an appropriate time to read though these books celebrating love in all its many forms.  At a set of twenty books it may sound like a lot of reading, but they're all slim volumes.  I've added up the page count and it comes to a rather modest 2,410 which is perfectly manageable.  It also may at first appear repetetive, but with authors as diverse as Anais Nin, Boccaccio and Thomas Hardy in the collection I doubt that a shared theme is going to make the books at all the same.  It will also provide me with a short and manageable introduction to many famous authors that I haven't got round to reading yet: of the twenty authors included in the box set, Kierkegaard, Thomas Hardy, Sigmund Freud, Virgil and Tolstoy are the only ones that I've read before.  Bring on the month of Great Loves!
2 Responses to "January Summary"
Write a comment