Now that I've officially brought 2011 to a close on Old English Rose Reads, it's time to look forward to 2012 and all the delightful reading which can take place this year.  It seems only appropriate to make a few reading a blogging resolutions at this time of year, although (in the words of Pirates of the Caribbean) they're more like guidelines.  I feel no qualms about breaking or ignoring them if I change my mind later on (witness my 2011 resolutions, of which I stuck to just one), but I feel it's nice to have some vague sense of direction when starting the year.
1. I will finally get up to date with all my reviews and I will stay there!  As I don't plan on getting married or moving house this year this should be doable, although I do have a backlog of 73 reviews to get through before I even start on 2012!
2. Comment more.  Where I've been so busy, I've been dashing through everyone's lovely blog posts on my feed reader and I rarely manage to stop and leave a comment.  I really do enjoy the bookish chat that goes on in the comments of blog posts, so I'm going to make an effort to join in a bit more this year.
 3. End the year book-neutral.  Although the Old English Thorn and I may have a shiny new flat, I appreciate that its primary purpose is as a dwelling place and not a book storage unit (although this is undoubtedly its secondary purpose).  Consequently, I'm going to attempt to limit myself to only buying as many books as I read.  Ideally I'd like to read more books than I acquire, but knowing how well I respond to limits on my book purchasing I think I'm best to aim a bit lower and see how it goes.
4. Join in with some readalongs.  I have a lot of intimidating-looking books sat on my shelves waiting for my attention, and reading them with other people seems the best way to attack them.  I'm going to try it with three books this year.
I joined Team Middlemarch with dovegreyreader on 1st December 2011.  The plan is to read what is widely considered to be George Eliot's greatest novel following its original publication schedule: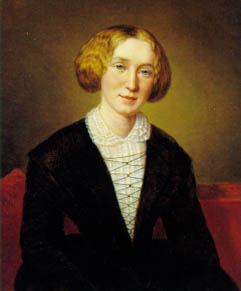 Miss Brooke – 1st December 1871 Old and Young – 1st February 1872 Waiting for Death – 1st April 1872 Three Love Problems – 1st June 1872 The Dead Hand – 1st August 1872 The Widow and the Wife – 1st October 1872 Two Temptations – 1st November 1872 Sunset and Sunrise – 1st December 1872
I'll be posting about each installment when I begin the next one, so look out for a post on Miss Brooke on 1st February.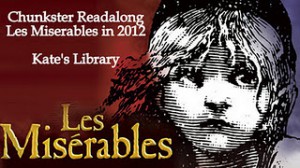 I'm also joining in with Kate's readalong of Les Miserables which runs throughout the year.  I adore the musical and I bought myself a lovely hardback copy of the Julie Rose translation from a discount bookshop by the British Library but it's huge and appears to be printed on Bible paper, making it even longer than it appears.  Kate's wonderful schedule makes it seem so manageable, breaking the huge tome down into bitesize morsels, so I'm hoping to be able to stick to it and discover this story as it was originally written.  I may even reward myself with a trip to the theatre to see the musical again after I've finished.  Once again, the plan is to post at the end of each section.
I've also joined the much shorter January readalong of Moby Dick hosted at The Blue Bookcase.  As I studied a literature course at university which focused exclusively on English literature it's not a book I ever studied, but it's one I'm curious about (helped by the recent and fortuitous purchase of a lovely edition of the book shortly before the readalong was announced).  I'll be posting according to the schedule on the Blue Bookcase.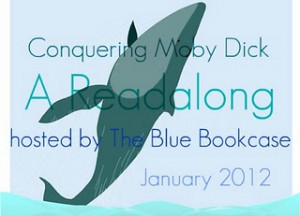 Jan 12: Chapters 1-28 Jan 19: Chapters 29-55 Jan 26: Chapters 56-93 Feb 2: Chapter 94-epilogue
So, there are my plans for 2012.  Above all, my plan is to continue to enjoy my reading and to discover many more favourite books.
2 Responses to "2012 Reading Resolutions"
Write a comment