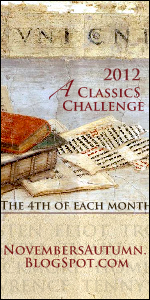 If blogging has taught me one thing it's that I don't respond well to book lists.  I love creating lists of books that I've read, arranging them according to theme or author nationality or date, but if I try to read from a list of set books I know I'm doomed to failure.  This (and general disorganisation) meant that I didn't get round to signing up for Katherine's Classics Challenge at November's Autumn, but the prompts are so interesting that I hope it will be alright for me to join in with whichever classic I happen to be reading on the fourth of each month even though I haven't made an initial list.
This month's prompt asks about the author of the classic that you're reading at the moment.  Because of the various readalongs in which I'm participating at the moment, I actually have three other classics on the go, Middlemarch, Les Miserables and Moby Dick, in addition to the one that I'm going to focus on today.  I've chosen this book because the author is much less well-known, at least on this side of the pond, and finding out more about her might help me to understand her work a bit more.
The book that I'm reading right now is The Country of the Pointed Firs by Sarah Orne Jewett.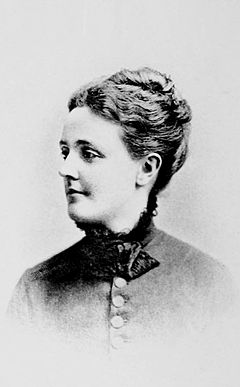 Sarah Orne Jewett was born in South Berwick, Maine on 3rd September 1849.  She died in the same town aged 59 on 24th June 1909.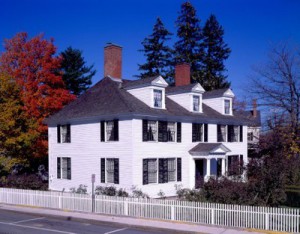 As a child, she developed arthritis and so was often sent for long country walks to try to ease the symptoms.  She also frequently accompanied her father, a country doctor, on his visits to his patients and it is probably from this background that she developed her keen interest in rural domestic  life on the Eastern Seaboard.  She was educated at the local school, but expanded her knowledge through her family's library and correspondence with other learned figures.
Sarah Orne Jewett never married.  She did have a deep and long lasting friendship with Anne Fields, the wife of the editor of Atlantic Monthly.  After his death, Sarah and Anne lived together, giving rise to the speculation that she may have been a lesbian, but it is equally plausible that the two were merely friends and companions.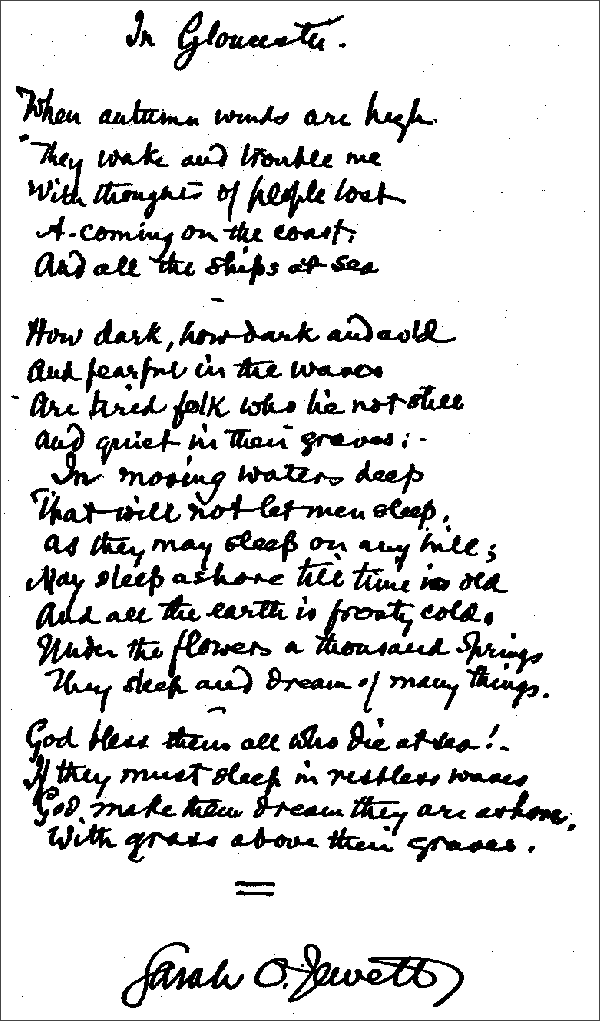 Jewett had her first short story published when she was 19 in the Atlantic Monthly magazine.  She didn't write novels, preferring sketches, short stories and poems, and was at times quite apologetic about her own writing:
It seems to me I can furnish the theatre, and show you the actors, and the scenery, and the audience, but there never is any play!. . . I seem to get very bewildered when I try to make these come in for secondary parts. . .I am certain I could not write one of the usual magazine stories. If the editors will take the sketchy kind and people like to read them, is not it as well to do that and do it successfully as to make hopeless efforts to achieve something in another line which runs much higher?
Her writing was often dismissed as the chatterings of an old maid, because they aren't driven by plot, and for a long time it wasn't considered to be worthy of criticism.  However, Willa Cather considered The Country of the Pointed Firs to be one of three American works (along with Hawthorne's The Scarlet Letter and Twain's The Adventures of Huckleberry Finn) to be most likely to achieve permanent remembrance.
Jewett's writing career was brought to an abrupt and untimely end when she and her sister were involved in a carriage accident when their horse stumbled on a loose rock.  Both sisters were thrown from the carriage and, though Jewett's sister was largely unharmed, Jewett herself suffered from concussion and spinal damage.  Afterwards, she experienced frequent dizzy spells, memory loss, pain and lack of ability to concentrate which lasted until her death seven years later.
Jewett clearly wrote about the life she knew and held dear to her heart.  Her depictions of Dunnet Landing, the fictional Maine town that provides the setting for The Country of the Pointed Firs, is full of local colour, affection and understanding.  It reads almost more like a memoir than a work of fiction, which seems testament to how well Jewett has captured a time and a place and the people who inhabit that in her writing.
12 Responses to "A Classics Challenge – January Prompt"
Write a comment