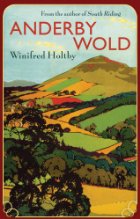 When I was sent a copy of the beautiful new edition of South Riding by Virago at the beginning of 2011 and was introduced to the writing of Winifred Holtby, it didn't take me long to fall in love.  I was fascinated by the dextrous way she handled such a large cast of characters, making all their stories personal and believeable.  She created a community of people by which I was completely absorbed.  As I said at the time, I wanted to live there.  Later on in the year, I was given the opportunity to discuss the book at one of the Virago Book Club events, something I surprised myself by enjoying even more than their book events with authors.  At the end of a lovely evening, during which we reminisced about South Riding and shared our favourite bits, it was made even better when we were each given a copy of one of the newly republished editions of one of Holtby's novels.  My copy of Anderby Wold didn't even make it home before I dived into it head-first.
Like South Riding, Anderby Wold is set in Yorkshire and deals with a community struggling with social change.  Mary Robson is a young woman who has married her cousin in order to have the means to pay off the mortgage on her family farm and the skills to keep it running.  Life in Anderby Wold is hard but quiet until David Rossitur, a young handsome social reformer, arrives and begins to shake things up, not least on Mary Robson's farm.
Anderby Wold is nowhere near as polished and accomplished as South Riding but it is by no means a bad novel; Winifrd Holtby not at her best is still Winifred Holtby after all.  Its focus is narrower, on a few key players rather than each individual in a community, but many of the themes which will be developed and expanded in her later work are present in their nuculaic form here.  There is the same emphasis on the indivdual as part of the community and the differences between individual responsibility and social responsibility.  It'sreally very difficult not to make this sound incredibly dull, but in fact it paints a fascinating picture of a community going through a time of quiet but important change.
One of the things that has impressed me about both Holtby novels that I've read so far is her ability to create characters who are neither inherently good nor inherently bad.  Everyone has an opinion that they think is right and good: giving to the poor, workers' rights and social equality.  It's difficult to disagree with any of them individually, but each character's approach towards achieving what is right is somehow at odds with that of the others and therein lies the conflict.  People do bad things, but noone is bad.  There is no villain to boo; instead there is a complicated moral maze which Holtby refuses to guide the reader through.  Instead she happily abandons you there, leaving you to find your own way out, and that for me was the main appeal of Anderby Wold.
Anderby Wold by Winifred Holtby.  Published by Virago, 2011, pp. 278.  Originally published in 1923.

2 Responses to "Review: 'Anderby Wold' by Winifred Holtby"
Write a comment